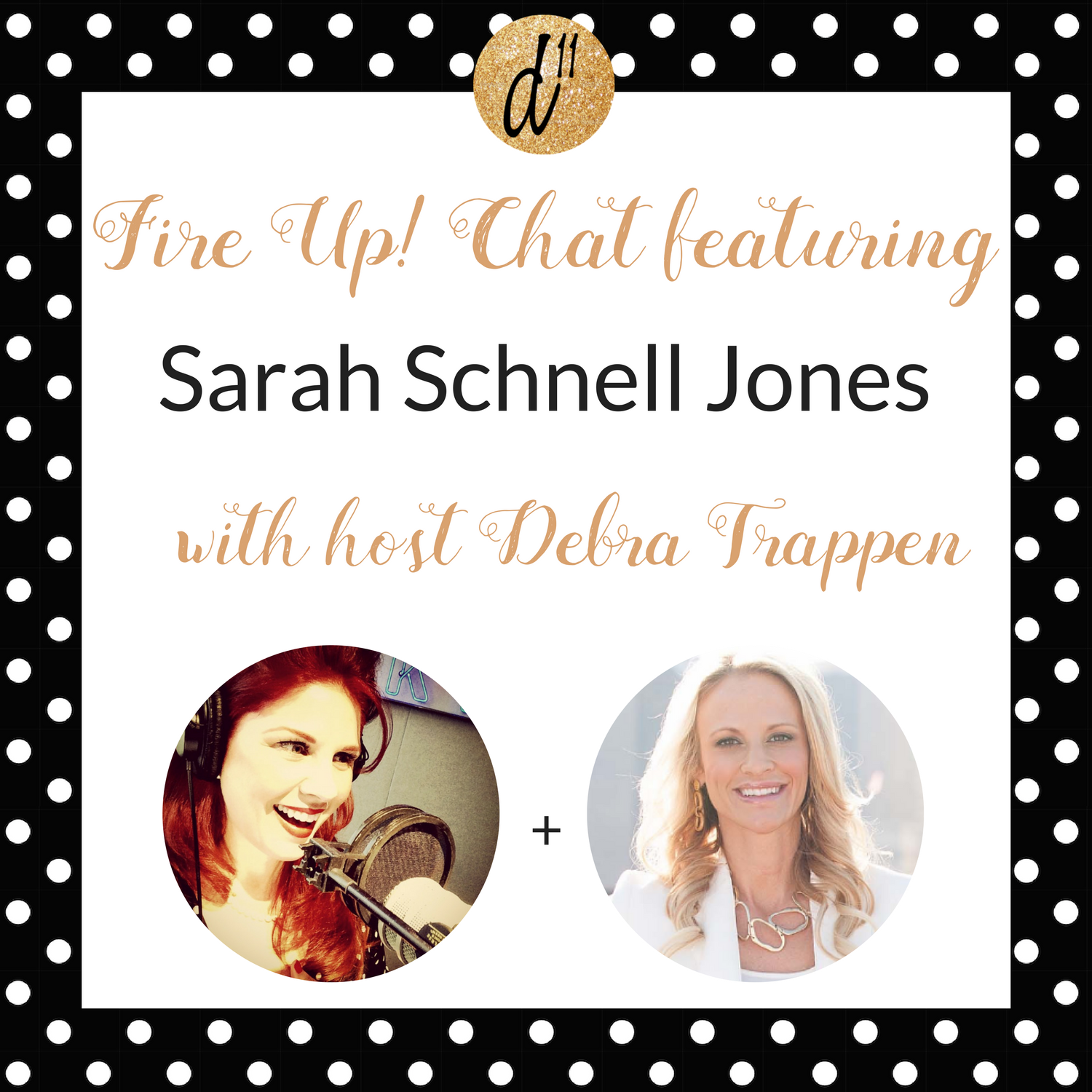 11 Aug

Chat with Sarah Schnell Jones

Podcast: Play in new window | Download

Subscribe: Apple Podcasts | Google Podcasts | Stitcher | RSS
---
It's time to Fire Up! with Sarah Schnell Jones…
Queen B and CEO at Bamboo Realty. Ethiopia adoptive mom. Yoga diva, sports enthusiast, avid shoe collector. CU Buffs alum.

Don't miss her divine special offer (from her side hustle) for the Fire Up! Community!
(at the bottom of this post)
Here's Sarah Schnell Jones…
Q1: What was it that gave you the 'push' to begin living your dream?
The push from behind was corporate boredom and burnout. The pull from ahead was the opportunity to create something new and change an industry. This is how Bamboo Realty was born.
Q2: What does success look and feel like TO YOU?
Success is the satisfaction of working hard and igniting change. If I'm changing over time, or creating change in the people and things around me, that is my measure of success.
Q3: 

Share the THREE WORDS that describe you BEST!
CREATIVE. RELENTLESS. MOTHERLY.
Q4: What was your biggest mistake? How did you learn from it?
Gosh, I have so many. How about some ongoing mistakes I'm still working through? Not taking care of myself; holding emotion in; shortage of compassion and gratitude….
Q5: What is one thing people would be surprised to know about you?
I'm an introvert. Crowds of people make me sweat.
Q6: If you could go back 10 years and share the knowledge you have now – what would you tell yourself?
Nothing really comes to mind!
Q7: What inspires you to keep moving forward – even in moments of fear and doubt?
Clarity of vision – When you go to sleep visualizing the future and wake up doing the same, it's easy to keep going on your hardest days. I once read that having clarity of vision enables one to lead from the heart versus the mind; to be a victor over circumstances versus a victim, and to be a champion of a cause versus a competitor. All of these things help me move forward in times of fear and doubt.
Q8: What is the first thing you do in the morning?
Meditate – yoga or pilates – coffee
Q9: What is your 'superpower'?
Communication is the golden spoon in your mouth…  ;)
Q10: What are your TOP FIVE apps on your phone? Why?
Breathe – app for guided meditation
Docusign – sign anything from anywhere
Yelp – helps me avoid three-star service
Wunderlist – moves "to do" list from calendar and email to a real checklist
Tripit – keeps all my travel plans in one place
Q11: What songs are on your FIRE UP playlist?
Dragula – Rob Zombie, More Than Human – White Zombie, Down with the Sickness – Disturbed.
Check them out on my Spotify playlist!
---
BONUS ROUND QUESTIONS:
What is your ONE WORD for this year?
Deeper.
Deeper Roots.  Deeper Relationships…

Anything else you would like to share with the Fire Up! Community?
Being wife, mom and boss is a really hard combination. There are no CliffsNotes for this job.
---

Sarah's Special Offer for the Fire Up! Community!

She will send you a free mini-facial if you direct message her here:  facebook.com/sarahsjones
Want to visit her R+F site? bamboo.myrandf.com
If you place an order as a Preferred Customer (with 10% off and free shipping) you will also get a FREE Essentials Item of your choice.
Thank you, Sarah!
xxoo
---
Brief Bio:

Sarah's fantasy football team is named Faber College and her profile picture is Calise, Mother of Dragons. She has hippie roots with big city experience: She lived on a reservation while very young and later lived in San Francisco, Dallas and now Houston. She has a love/hate relationship with mornings. 
Sarah Schnell Jones is co-founder and CEO of Bamboo Realty. She has been across the country as an industry change agent for her dedication to corporate culture and creative branding.
She is a college football fan and roots for her alma mater, the Colorado Buffs, no matter their on-field record. When she is not working or rooting for her favorite sports team, you'll find her upside down on the yoga mat at the local hot yoga studio where she has been practicing for over 5 years. She and her husband Brian adopted their daughter, Portia, from Ethiopia in 2015.
| www.bambooagents.com | Twitter | Facebook | LinkedIn | Instagram | Google+ |