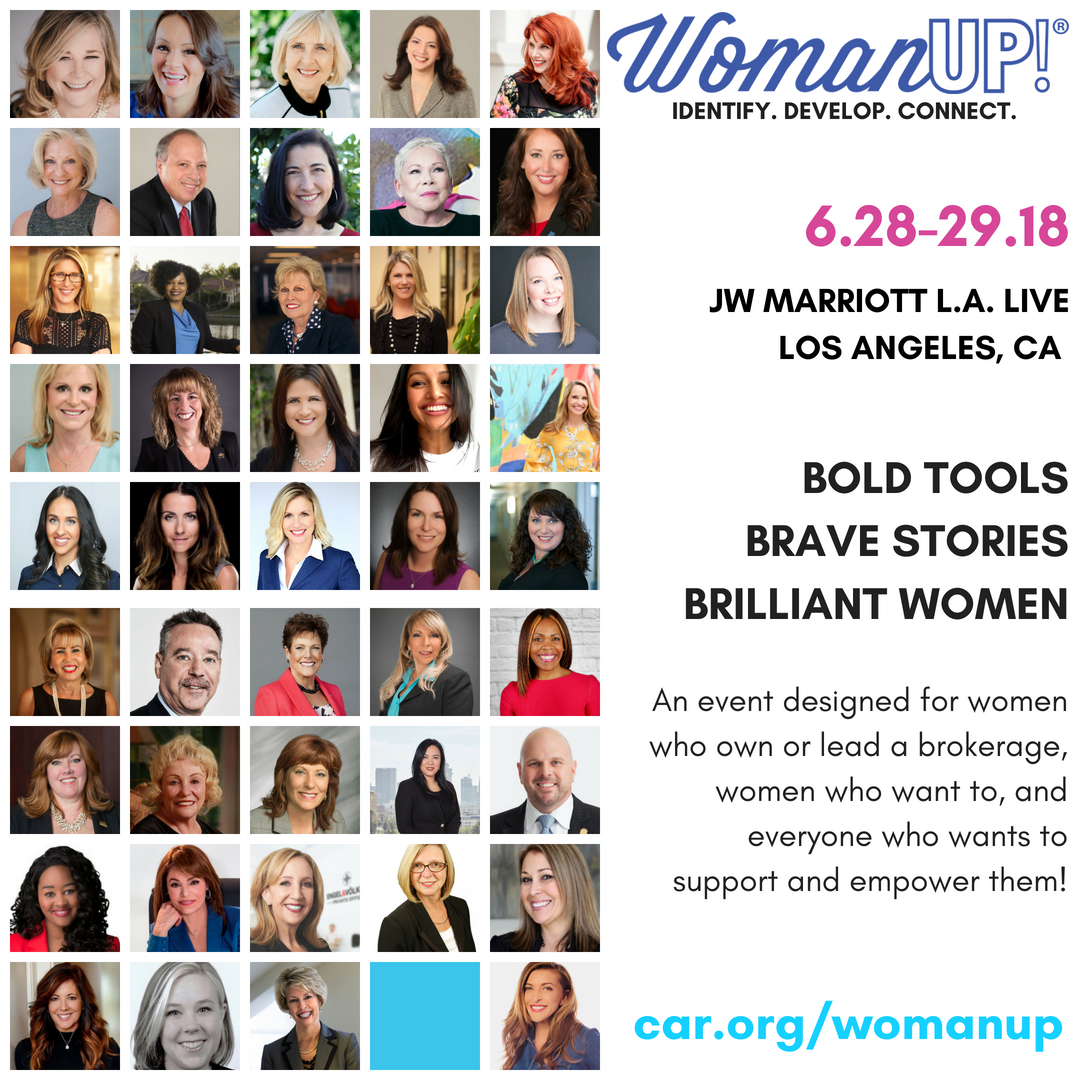 31 May

Join Me At WomanUP!® * June 28-29 in Los Angeles #WomanUP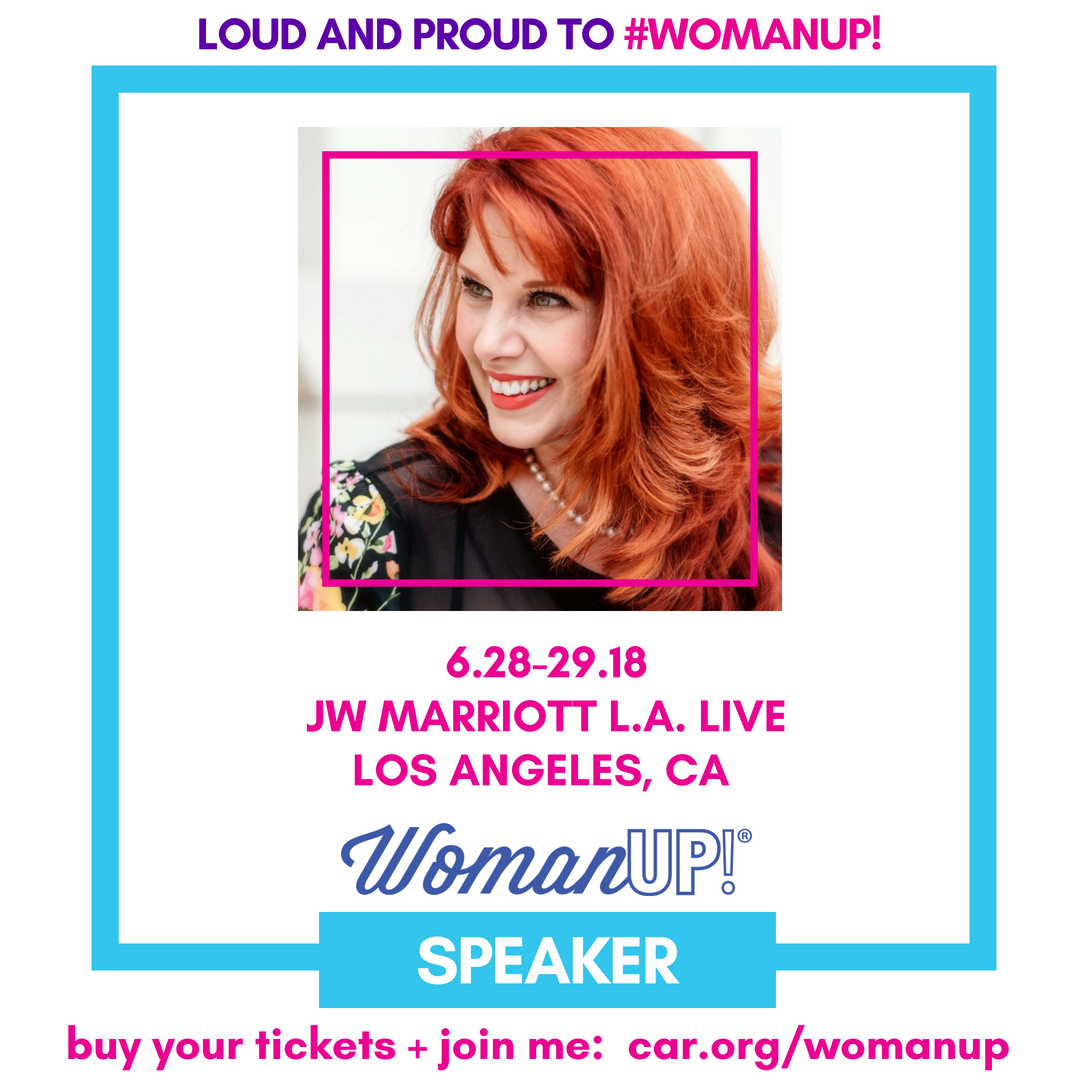 I am fired up and honored to be joining a lineup of 40 speakers and storytellers scheduled to share wisdom at the California Association of REALTORS® (C.A.R.) second WomanUP!® Conference to be held June 28-29 at the JW Marriott LA Live in Los Angeles.
The two-day conference is part of C.A.R.'s women's outreach program to bring together a community of mentors and leaders to communicate, collaborate, and support one another in the real estate industry.
Last year, C.A.R. hired me to consult on and speak at this inaugural event held in Pasadena, CA.  In January of 2018, Sara Sutachan, C.A.R. VP, and I decided to join forces again! The work we are doing together is beyond fulfilling.  We have put together a Mentoring Pilot Program, as well as an amazing program for the 2018 WomanUP!® event in June, and have already started plans for a National event in 2019.
Why? you ask. While the real estate industry is predominantly female, women are underrepresented in brokerage ownership and leadership positions both at the brokerage and senior management levels. This was confirmed during research done in 2016-7. Want to see and read the data behind the WomanUP!® movement? Here is C.A.R.'s white paper, "C.A.R.'s Women's Initiative: How Women Brokers Are Reinventing Leadership in the 21st Century.
Thankfully, and totally aligned with my core values, the WomanUP!® is about making a difference, not complaining about the issues.  So, instead of continuing to point out the obvious, this movement is creating a table for women who already own/lead brokerages, women who want to, and everyone else who supports these women on their ownership and leadership journey.
My talk topic this year is "WomanUP!® Your Support" and will focus on one of the untouched topics – Women Supporting Each Other.  I am currently gathering stories of women who have been supported, hired, or promoted by another woman. If you have (and are willing to share your story) please let me know in the comments below or private message me on facebook.com/debra11
Other confirmed speakers include:
Bahareh Kamoei, Broker-Owner, BBS Brokers Realty
Barbara Betts, CEO, The Betts Realty Group
Bernice Ross, CEO, BrokerageUP!
Brent Thomson, COO, Pacific Union International
Caroline Pinal, Co-Founder, Giveback Homes
Carol Facciponti-Malcom, Broker-Owner, Carousel Realty
Chris Kutzkey, Broker-Owner, John L. Scott
Debra Trappen, Head of Sass and Moxie, DebraTrappen.com
Elizabeth Mendenhall, CEO RE/MAX Boone Realty, National Assn. of REALTORS® President
Heather Ozur, Team-Leader, The Ozur Group, Keller Williams
Jennifer Branchini, General Manager/REALTOR®, Better Homes and Gardens Tri-Valley Realty
Jennifer Martin, Operating Principal and Broker, Keller Williams Westland Realty
Joanna Odabashian, CEO/Team Leader, Keller Williams Westland Realty
Laura Brady, Founder & President, Concierge Auctions
Laura Monroe, VP of Growth & Partner Collective, Sequel
Lisa Schulz, COO & Broker of Record, HomeSmart Evergreen Realty
Myra Nourmand, Principal, Nourmand & Associates
Natalie Iaquinto, Director of Agent Development, Modern Broker
Pam O'Connor, CEO, Leading Real Estate Companies of the World®
Passion Broussard, Sales Manager, Red Oak Realty
Pat Heller, Vice President, Pacific Union International (Former Gibson International Division)
Sabrina Brown, Broker-Owner, Brown & Brown Real Estate
Sandra Sanders, CEO and Broker-Owner, RE/MAX Estate Properties
Sandra Miller, President, ENGEL & VÖLKERS
Sherry Chris, President and CEO of Better Homes and Gardens Real Estate
Stacy Carter, President and Broker-Owner, First Class Real Estate
Stephanie Anton, President, Luxury Portfolio International®, Leading Real Estate Companies of the World®
Susana Murphy, Broker-Owner, ALANTE Real Estate
Tamara Suminski, Broker-Owner, Beach Real Estate Group
Tami Bonnell, CEO, EXIT Realty Corp. International
Tammy Newland-Shishido, Operating Principal of Keller Williams Shoreline
Terri Murphy, Author, Speaker, Consultant & Communications Specialist, terrimurphyrealestate.com
Valerie Alexander, tech CEO, speaker, author, publisher and screenwriter
Valerie Garcia, Speaker & Consultant, valeriegarcia.com
Steve White, C.A.R. President
Jared Martin, C.A.R. President-Elect
Jeanne Radsick, 2019 C.A.R. President-Elect
Joel Singer, C.A.R. CEO
Leslie Appleton-Young, C.A.R. SVP
Anne Framroze, C.A.R. SVP
Sara Sutachan, C.A.R. VP
I look forward to seeing members of the Fire Up! community there.  If you plan to attend, leave a comment below or direct message me on Facebook!