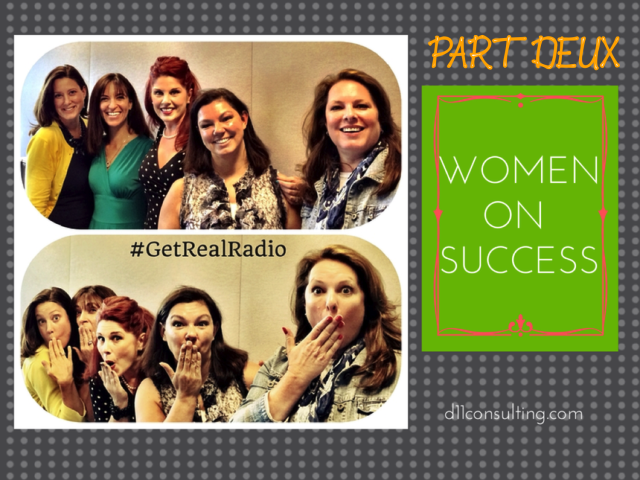 17 Oct

Women Entrepreneurs Share Success Secrets – Part Deux

Podcast: Play in new window | Download

Subscribe: Apple Podcasts | Android | Google Podcasts | Stitcher | RSS

It's UP!  Part Deux of the conversation with Vija Williams, Deb Champion, Vanessa Murray and Nicole Mangina on Get Real Radio on 1150 KKNW here in Seattle, WA!

The five of us really dug into this lively, info-packed, laughter-filled conversation about being successful women in business… We answered questions like these:
Looking back, if you could suggest ONE THING you could have done earlier or differently in your career – what would it be and why?
What traits do you believe entrepreneurs must have to succeed in real estate today?
What is your daily mantra to stay empowered?
We also shared favorite books, inspirational quotes, alliterations to help you recall tips, etc!  So many fab tips in here… Wow!
One of my favorite things about this group is how different each of our stories is, but how much – at the core – we all have in common!  Some info about my fellow women entrepreneurs:
Vija Williams leads a super duper successful team at Keller Williams in Kirkland.  She is a wife, mom, and SASS, to name a few more hats…
Deb Champion is a mortgage banker in the Seattle area.  She works for a private bank and ROCKS biz in the lux/custom construction space.  I learned ooodles about Deb in this hour, including: she is a wife, mom, and seeker of excellence!
Vanessa Murray – Founder, TAKE Success, LLC.  V just launched a new business after being in Corporate America for the last several years!  Stay tuned for more details as she builds her brand and website… I will be sure to share her journey.
Nicole Mangina – REALTOR®, President of the local Women's Council of REALTORS®, wife, math/science geek, mom and much more!
Listen To The Show Here:
---

Do you have a daily mantra you use to keep your attitude positive and focused?

Are you working through a "failure", on your way to your success, and need support?
Feel free to leave your comments and needs below
Cheers!
D