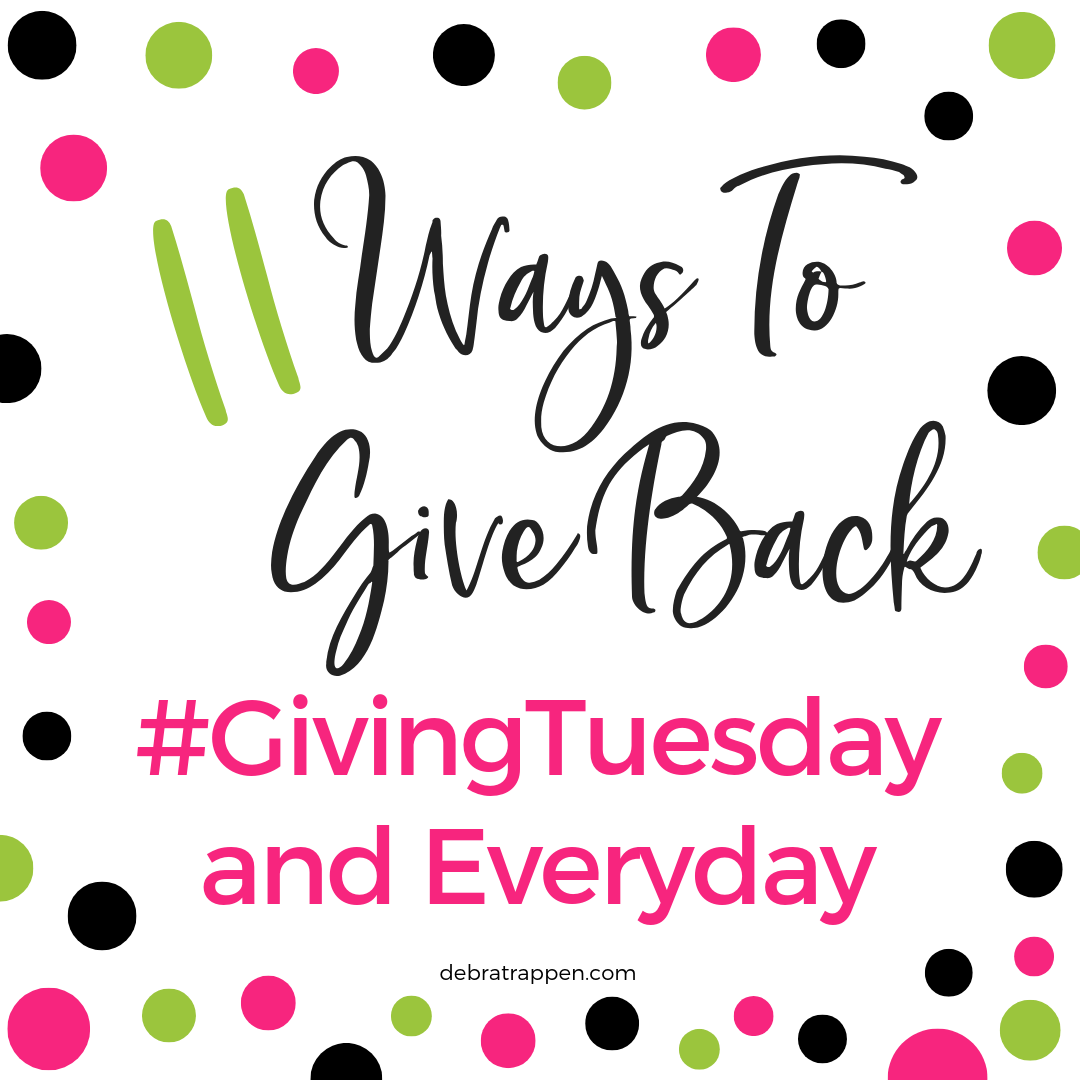 27 Nov

11 Ways To Give Back #GivingTuesday

Updated: 11/27/18

There is no need to get stuck in a rut with how you serve and give back. In honor of #GivingTuesday, I'd love to share 11 ways you can GIVE BACK to your community during the days/weeks/months ahead!  If you can honor your passions and your purpose in your giving – not only will you bring JOY to others… you will take your happiness and fulfillment to an 11. ;)

If you have a favorite way you volunteer your time, I would love for you to add it in the comments below.
---
11 Ways To GIVE BACK
1: Serve The Homeless
This time of year gathering and delivering warm coats, scarves, hats and socks to the homeless in your community can SAVE LIVES.   Also, you can bless those living in the shelters with stockings filled with personal care products you have collected from your business travels all year long!
2: Put Food On Other People's Table
We all know how special the holiday meals we enjoy are… There are so many who don't have the means to create those experiences.  If you are a foodie – this is an AMAZING way to give back.  
3: Grant Wishes for Children
Nearly every mall in the world has a "Giving Tree" with wishes from the children in the community.  
Don't just whizzzzz by it this year.  Grab a wish and make it come true.
4: Clean Up Your Neighborhood
Instead of shaking your head about the piles of leaves at the local park… Grab a rake.
Rally your neighbors together and help clean up the yard of any sick or elderly people on your street.  Use the NextDoor app to get everyone together. ;)
5: Tutor/Mentor Someone
You have gifts and knowledge others crave to learn.  Take a moment and think about someone you can bless.  If you don't know anyone, ask a colleague or friend for help.

6: Donate Time At Animal Shelters
Are you one of those people on social media who is always posting cat and dog videos?  Focus that passion in real life by volunteering at the local shelter.  
They are going to need a TON of help after the holiday high wears off and that puppy, potbelly pig or ferret isn't exactly as fun as they imagined!
7: Visit Hospitals
Contact your local hospitals and find out who needs help!  Most are open to you visiting with treats and holiday gifts to lift the spirits of their patients.  If you love to read, ask if they have "story hour" for the children.

8: Give Blood
Sadly, there is always a need for blood.  Especially during the holiday months when it is dark earlier and alcohol is flowing.  (Which reminds me – please don't drink and drive.  Call an Über, Lyft or taxi – as you wish!)  Many of the blood banks have apps that allow you to schedule your appointment on the go… they are making it SO EASY for us.  If you are looking for something to do at your place of business – consider hosting a BLOOD DRIVE! 
9: Serve Your Arts Community
If you are passionate about the arts or serve the luxury community – this is a lovely way to give back.  Call your local museums and find out if there are events they need help with, days they are short on help, etc…  

10: Bring JOY To Lonely Seniors
Not everyone lives close enough to visit their Grandma and Grandpa every week.  I know it brings me peace to know there are amazing people who visit, entertain and serve my Grammy in her "care center"!  Call your local senior center or hit the Internet for a list of local care facilities.  Offer your talents – singing, dancing, play an instrument, perform magic… you get the idea!  
Give them something to take a picture of and share with each other when you are gone… You will MAKE THEIR DAY and provide an experience for them to talk about for WEEKS.  

11: Decorate Homes For The Elderly In Your Community
This is by far my favorite one this time of year!  So many people are "aging in their homes" gracefully, but that doesn't mean they can easily get their lights up on the house or get the tree out of the attic.  Look through your book of business this year and find someone you can BLESS with this.  You don't have to hang the lights yourself.  Many gutter-cleaning companies also hang lights this time of year.  
I look forward to reading your stories of how YOU give back and adding more ideas to the list above!
Cheers!

---
BONUS IDEA THIS YEAR
Purchase a $20 Virtual Pass to this event and help me raise money to provide an AMAZING Holiday Season to domestic violence survivors!
Join me for the first Fire Up! Conference and Fundraiser on 12/2: Speak Your Truth Now.
This event is designed to help you boldly declare who you are; step up, define, and protect your boundaries; and confidently speak your truth.
Each session and speaker will accomplish this by:
~ sharing stories that represent their experiences
~ giving strong calls to action on how you recognize and share your own truths and stories
~ showing, by example, how the confidence to step into their truth and speak UP changed lives (including their own)
~ sparking conversations between you, your loved ones, and your community about the things that mean the most to you
During the event, I will be chatting with the Conversation Igniters, including these amazing influencers in the real estate and digital marketing spaces:
Rebekah Radice (rebekahradice.com)
Katie Lance (Katie Lance Consulting)
Stacie Staub (Live Urban – Denver)
Vanessa Bergmark (Red Oak Realty)
Deena Zimmerman (SVN Chicago Commercial)
Wendy Forsythe (Carrington Real Estate)
J Philip Faranda (J Philip Faranda Real Estate)
Anne Jones (Windermere)
Tara-Nicholle Nelson(Transformational Consumer Insights)
Jay Thompson (Zillow Group)
Chris Smith (Curaytor)
Additional details and info: fireupconference.com/sytn16-register
---
Not sure what Giving Tuesday is?  
Here is a blurb from their website:
#GivingTuesday is a global day of giving fueled by the power of social media and collaboration.
Celebrated on the Tuesday following Thanksgiving (in the U.S.) and the widely recognized shopping events Black Friday and Cyber Monday, #GivingTuesday kicks off the charitable season, when many focus on their holiday and end-of-year giving.
One of the best ways to get involved is in your own community. We've created a directory to help you find organizations, charities, events and more in your own community.