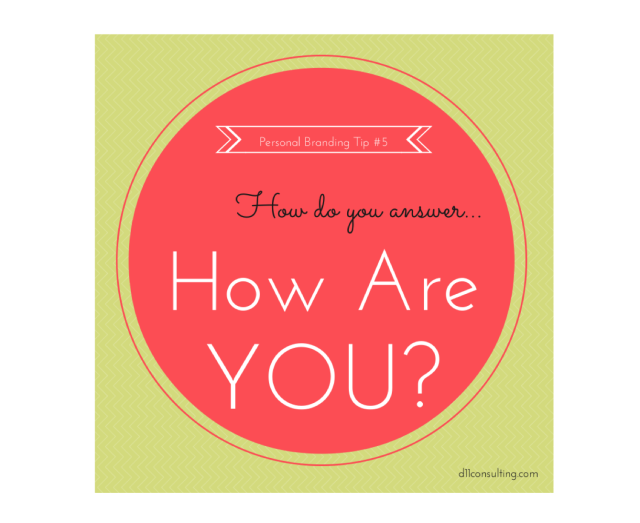 24 Apr

How do you answer "How are you?" #FireMeUp11

This post is part of the d11 Personal Branding Blog Series…   Each of the 25 branding tips is getting a deeper dive this year.   
---
 Personal Branding Tip #5: Be Specific.
Have you ever asked someone:  "How are you?"

OF COURSE you have.   It is one of the top questions we ask one another.  Now, I understand people (not you or me, of course) have been known to just use this question as a way to say hello and are not really asking about your current condition.  Let's stop this.  Let's use this as an opportunity to connect.  
If you are with me, let's do this and stop missing out. 
Every single day many of us miss opportunities to share a snippet of our story, leave an impression, solve problems, and shine our personality!
HOW?
We are lazy with our answer.  There, I said it.

Most of the time we reply with one of these words:
Fine.   Good.   Well.   Okay. 
blah. blah. blah.OR even worse… we say "busy".  
Busy is a lame four-letter word to me… and it drives me nuts when it slips out of my mouth too.  Not only does it sound "frazzled" it doesn't share anything REAL.
So, before you respond, or are even asked the question, here are some things to think about:
1.  Share your story. 
If you have oodles of things going on… instead of saying "busy" –  share something about a cool new project you are working on, your favorite client right now, a new winery you just visited, or a vacation you have coming up.   Give examples. Illustrate your story with your words.
"Life is a wild ride right now… I just signed a new client today who is looking for a new HR Director.  If you know anyone looking, please let me know and we can get them all connected.  
or
"My hubby just started a new consulting project for a really cool tech company… and my mini me has her first ballet recital this weekend!"
2. Ask yourself what feeling you want to leave with them. 
Entertained? Educated? Elevated?  Part of your personal brand is absolutely how you make people feel when they are with you, around you, talking to you, etc…  If you are known for sharing the latest tech tools/apps – include one in your reply!  Love to inspire or ignite… or make people laugh?  Infuse those elements in your replies!
3. Help them… Help you… Help your world.
What are you working on, seeking, or planning?  Share it and let them know how they can help!  MOST of us love to share our experience, advice, and/or two cents… 
Are you looking to break into a new industry or learn a new skill–> ask them if they know anyone in that space they would be willing to introduce you to.
If you are planning to visit a new country–> you might inquire if they or a friend has been there and has advice.
Ask THEM what they are working on and how YOU can help!   Check what you plan to say to make sure your words are the most likely words to get you the results you want.
4. Keep it real, but light.
Love yourself enough to be authentic.  Love others enough to answer with thoughtful truth.  If you are seriously in need of HELP or things are not "grrrrrrreaaaat" – this is not really the time to roll into ALL OF IT.  However, if the person asking is close to you – go ahead and give yourself permission to get real. Ask them to grab a cup of coffee and catch up, so you can truly connect.
Side note:  Doesn't it break your heart when you find out a friend was going through something you would/could have helped them through, but they didn't tell you?  Allow people in, when the time is right.
5. Let your signature self SHINE thru in your answer.
There will be times when you only have a moment to connect and want a quick answer. For goodness sake, at LEAST have a little fun with your reply!  Try one of these 11 ideas on for size, or create your own:
Blessed beyond measure… Thank you for asking!

Right as rain and living the dream.

All is well… plus I am dreaming of my next champagne mani/pedi.

Better than yesterday; and not as fab as I will be tomorrow!

I woke up with air in my lungs, a smile on my face, and a purpose on my heart!

Nothing a velvety glass of wine and some girl time won't fix!

I'm feelin' like a blessing magnet today, everything is coming my way!

Shhhhh. It's a secret. :)

Better now that you are here!

Pass me a salted caramel chew… and I will be magnificent!

Gearing up for a reinvention! I'll let you know how it goes.
Don't forget to add in a simple "and how are you?" at the end of each reply.  
Oh, and I know it goes without saying, but when you DO ask how someone is doing PLEASE stop, listen, soak it in, and THEN reply. 
Take it to 11 Tip:
Write out some of your favorite responses that work best for you and save them in Evernote or your favorite note taking/keeping device!  Not only is this efficient, it also helps you build the consistency of your message. The replies for business "assistance" will really come in handy when you are on the go and replying to messages from connections who can help you achieve your goals!
I hope this post has inspired you to rethink how you respond to this universally asked question.  Remember, establishing a real sense of understanding, connection, and trust will help you personally and professionally… and definitely strengthen your personal brand foundation!
Do you have a favorite reply YOU use?  
Please share it below!

If you enjoyed this post – be sure to sign up for my email list!
Next up in the series: Embrace your uniqueness and your superpowers.  
---
 Why a personal branding series?  Simply put, I believe embracing, building, and sharing your personal brand and story is important for everyone to consider.  It assists in business when you are an entrepreneur looking to expand your business, an intrapreneur seeking a promotion or new role, or out there looking for your next big opportunity!  It also comes into play when you are looking for love, have a desire to expand your connections, and even when you want to volunteer. New clients, potential employers, non-profits, and future spouses are looking you up and down – on the internet.  They want to learn more about YOU… who you are, what you love, how you spend time, etc.  What is your online story telling other about you?   
It is my heart's desire that this series helps create clarity along your personal branding journey.