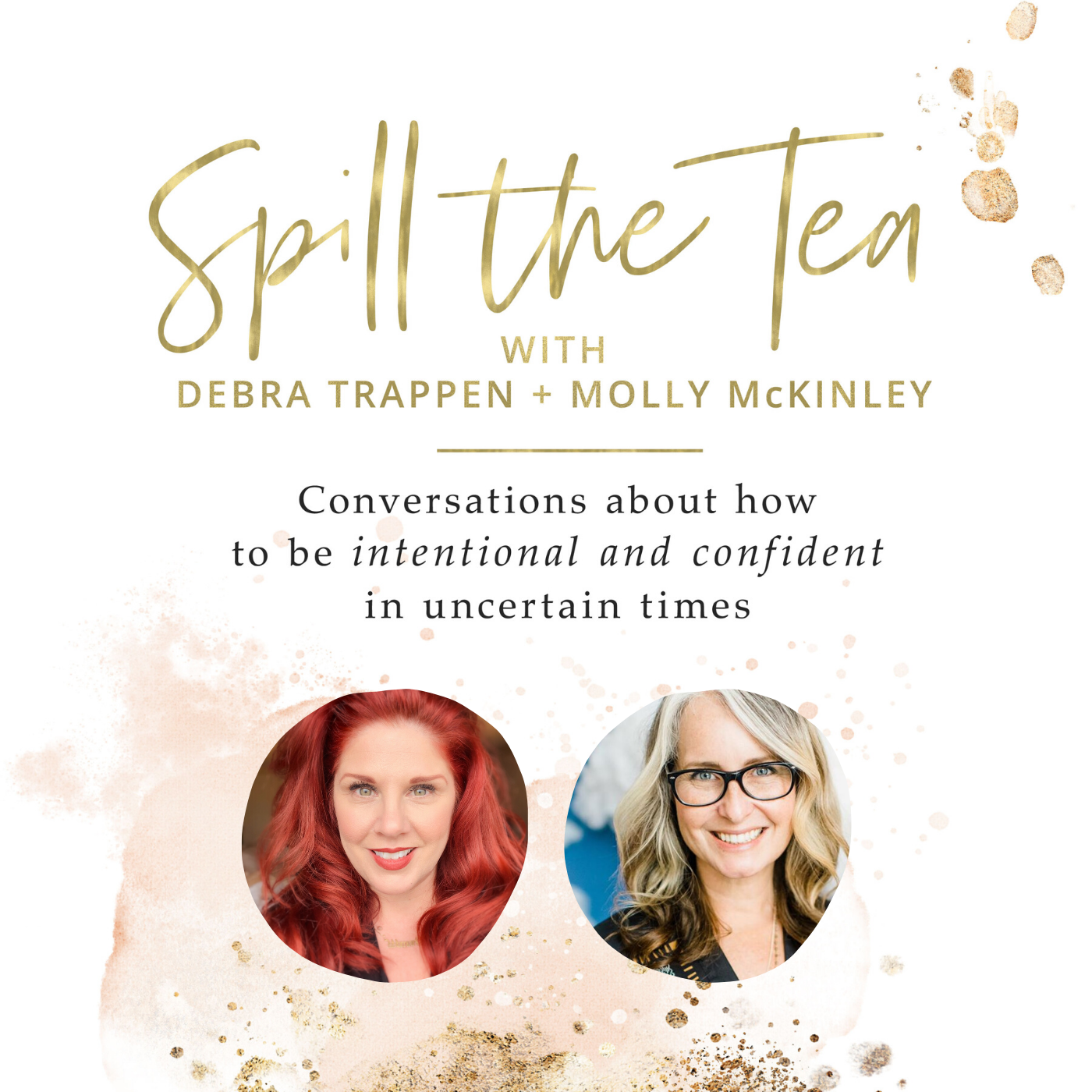 16 Jun

Spill the Tea: Rituals. Rest. Reclaiming Your Purpose.

Podcast: Play in new window | Download

Subscribe: Apple Podcasts | Google Podcasts | Spotify | Pandora | Stitcher | RSS

This week we are going to cover: Rituals. Rest. Reclaiming Your Purpose.

Join Molly + Debra as they spill the tea about their rituals, the importance of rest, and how becoming better humans for other humans is woven into each of their purposes – and yours, too!

Pull out your sassiest teacup, brew your favorite tea blend, snuggle into your coziest spot, and listen in on this hour of togetherness…

Molly kicks us off with a guided breathing exercise. 

What's in your cup? Snap a pic of you and your teacup and share what's in yours!

Debra is sipping one of her favorites, the LOVE blend from Intentionaliteas.

Molly is drinking the SUMMER blend from Intentionaliteas. 

Debra and Molly share their thoughts on this week's topic. 

Debra reads the Lioness Love Letter she created from her Moxie Affirmation this week: https://www.facebook.com/debra11/posts/10159664531543765

My dearest Lionesses and Friends,

I know you are weary. I am, too.

For years, I have enjoyed a morning ritual. When I wake up, I open my eyes, look out over the forest in my backyard, and have a chat with God. I pray for divine discernment to fill the hours ahead and also weave in these questions…

What work do you have for me today?
Who would you like me to bless?

Before the pandemic and mighty rising since the murder of George Floyd, I would smile and feel joy and excitement about what each hour would bring.

Now, I wake up and often tears flow as I ask these questions. Quite honestly, my joy has been replaced by sadness and sorrow and that excitement is more of a strong spiritual STIRRING.

However, my purpose, my tenacious perseverance, and the courage to do hard things with and for my beloveds have not swayed or faded.

In fact, I don't want to miss a single opportunity to shine a light where one is needed.

Dearest, today's #MoxieAffirmation is a little love note reminding you of the same… Read it and let these words soak into the deepest parts of your soul.

You were born with a purpose.
You woke up today… brilliant and feisty.
Know what that means?

You are not done here yet.

THERE IS MORE AHEAD FOR YOU TO DO!

You still have amazing things to achieve.
Relationships to build and nurture.
Mountains to conquer.
Movements to support.
Lives to change.
Dreams to realize.
If not now, when?

It's time to live your life out loud, on purpose, and on your own terms.

Are you ready to ignite your world?

Are you ready to support and protect and speak out for those you are meant to serve?

Are you ready to lean into your purpose?

Me, too.

Before they say ciao for the afternoon… Molly shares a guided meditation!

Want to watch the replay over on Facebook?

https://www.facebook.com/d11fireup/videos/286363929409204

•  •  •  •  •  •  •  •  •  •  •

What is Spill the Tea?

One of the many fun collaborations between Molly McKinley and Debra Trappen!

Molly is the CEO of Intentionaliteas and host of the Afternoon Tea podcast, so in honor of our shared love of tea – pull out your sassiest teacup, brew your favorite tea blend, snuggle into your coziest spot and listen in on this hour of togetherness.

Get ready to hear us sharing ideas to, best practices around, and (of course) highlighting our favorite people, brands, and initiatives positively serving humanity and sprinkling JOY over their slice of the galaxy!

It is our heart's desire to provide a lens for focus, a place to uncover the opportunities that abound. and create a moment to embrace grace and gratitude as we celebrate the beauty that is swirling around us. 

Let's all go forth and lead with love, trust, and faith.  

Learn more about MoxieOnFire.com – one of our other exciting collaborations!
---