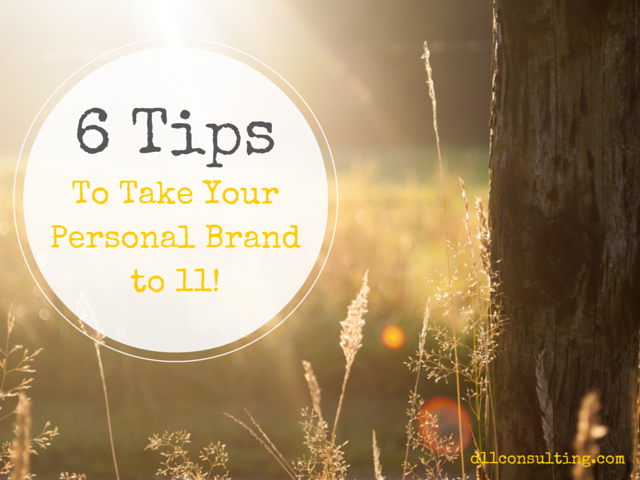 06 Apr

6 Tips To Take Your Personal Brand To 11…

Any time of the year is the perfect time to reflect, review, and refresh elements of your personal brand and image as a business and success-minded entrepreneur.  It isn't wise to wait until you need a new job or your final project is complete to focus on and improve your sizzle.
Here are six simple, powerful ways to boost your personal brand… and take it to 11:
1. Look your best.
You know how you feel when you slip into your favorite dress, ultimate power suit and tie, that pair of jeans that fit perfectly, sassy new shoes or even a fun new accessory?  There is magic in that feeling called confidence and embracing that is sure way to fire up your personal brand.  If you are standing in your closet, time and time again, wishing you had "something to wear", maybe it is time for you to get your spring cleaning on in that closet.   If you are not a fashionista, call a personal stylist for a consultation to give your wardrobe (and your confidence) a makeover.  If you are low on funds, pop some tags at your local thrift or consignment shop, hit the racks at TJ Maxx to get your Maxxinista fired up, host an closet swap with your besties who share your measurements… and don't forget to wear your invisible crown!
2. Ask for and wrangle feedback.
It is wonderful to be confident you are moving in the right direction, becoming known for your niche and creating a memorable personal brand.  However, taking time to ask for feedback will help take you to the next level.  You can start with asking your inner circle for three words they would use to describe you, create a simple survey using Google Forms or you can go even deeper by using a tool like 360 Reach.
3. Consider doing public speaking.
You know that one of the best ways to build your brand is to get your name out there. A key strategy to get your name out there is through public speaking. Start by choosing a topic that is related to your "niche" and create a presentation that can be shared in 30-60-90 minutes.  Next, add a page to your website that shares your speaking topic and who to contact to book you. Finally, when you are networking, be sure to share that you are seeking opportunities to share your message!  (Sign up for a free chapter of my upcoming book – it is all about defining your niche!)
4. Choose to be positive.
I know this seems like such a basic tip, but there is so much negativity (on social media, in the news and the general conversations recapping both) that a positive attitude helps you stand out and ensures you are memorable. Are you ready to become the person whose company is enjoyed by others?  Highlight other's talents. Find and focus on bringing solutions to the conversation, not just complaints and problems.
5. Infuse your passion with enthusiasm!
By expressing enthusiasm, you become a magnet.  You start to attract your ideal clients and connections, create an emotional connection and when you add in positive energy – your memorability goes off the charts! Passion is your soul tank and personal brand's FUEL, so be sure to infuse something you are passionate about every day to keep yourself revved up and ready to take on the world – with a smile!
6. Stop gossiping.
Gossip is not just a bad choice, there are not many other things more damaging to your personal brand than gossip. When you find yourself repeating someone's name or personal story over and over again in a conversation, stop and ask yourself if you are sharing to elevate the chat or spread rumors.  Stop shaming others for their behavior, style, weight, grammar or whatever else it is that you don't approve of… and start sharing ideas that help others improve and grow.Are you bettering the world or spreading negativity? Simply avoid gossip, at all costs, even if it means having to leave a conversation.
Kelly Mitchell and I recently tackled this topic and shared oooodles of ways to avoid or deal with gossip in a recent episode on womenonwine.tv.
It was my heart's desire to share some tips you could easily infuse into your day to help you take your personal brand (and attitude) to 11!
What tip will you try first?
Do you have a tip to share?  
Feel free to add your thoughts in the comments below!