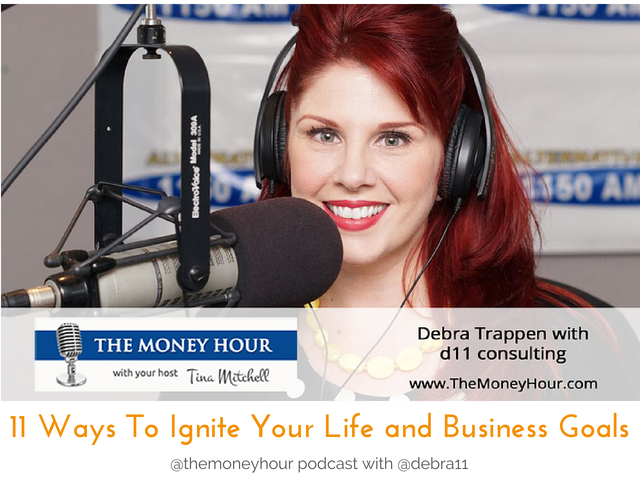 12 Sep

The Money Hour * 11 Ways To Ignite Your Goals

Did you miss my latest The Money Hour segment?  Never fear… here is the recording and overview.  Thank you for listening and sharing with your world…  Cheers!
---
Tina Mitchell kicks off the show with her *Money Chat* segment, then she and I share a chat about my "11 Ways To Ignite Your Life and Business Goals!"  
Here are my 11 tips/trick/truths (listen for more detail!):
1.  Be honest.
2. Use your values as your guide.
3. Frame each goal as a positive statement
4. Get visual
5. Check yourself.
6. Create S.M.A.R.T. goals.
7. Celebrate successes.
8. Clarity of vision.
9. Give yourself GRACE.
10. Surround yourself with champions.
11. Live with integrity!  

followed by Aaron Peterson (Designated Broker at Windermere) sharing his real estate industry insights.
The final segment of the show is an awesome information-packed conversation! Starting at 44:30, the three of us have a lively chat about the importance of personal brand and social media for real estate professionals (aka entrepreneurs).
We cover ooooooodles of questions, including:
How does personal brand effect your business?

Does is help or hinder client offer acceptance?

Is it important for a real estate pro to have a niche?

What role does social media play in real estate?
Thank you for listening…
I look forward to hearing your feedback!
Cheers!
D
ps. Tina has extended an invitation to visit The Money Hour several times a year for a d11 series… Stay tuned for the next episode later this year.