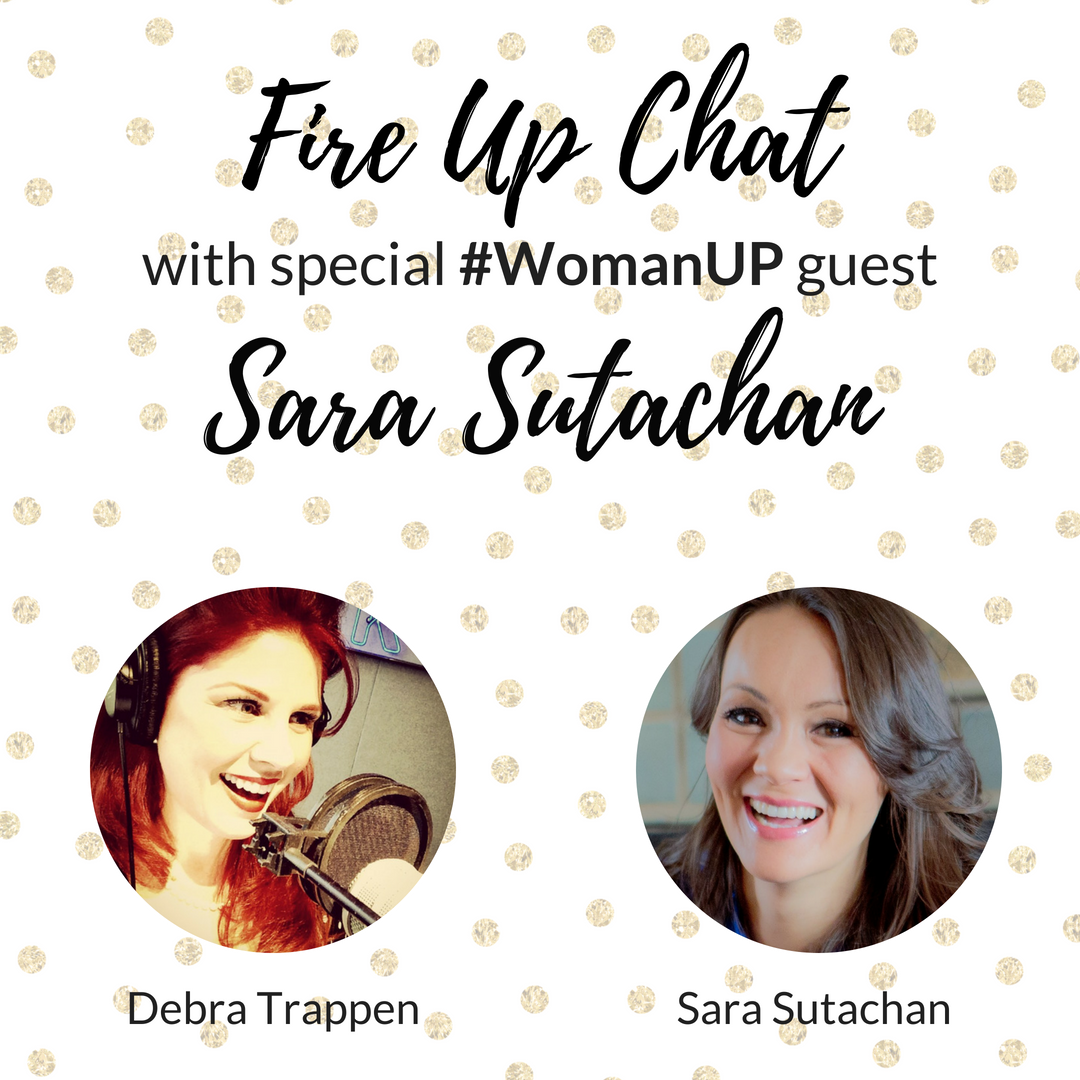 11 Jun

Meet Sara Sutachan * #WomanUP Co-Founder

Podcast: Play in new window | Download

Subscribe: Apple Podcasts | Google Podcasts | Spotify | Pandora | Stitcher | RSS

Today's Fire Up Chat is brought to you by the California Association of REALTOR® WomanUp Initiative. If you are a woman who owns or wants to own a brokerage or someone who believes in and supports women in brokerage ownership – THIS is the place to be to connect with your tribe and move things forward. Visit car.org/womanUP for details.
On today's episode, I am chatting with a dear friend, fellow power woman, and the co-founder of the WomanUP movement, Sara Sutachan.  We met on Facebook Live to have a conversation about the story behind the WomanUP™ Movement, what's coming next, and how YOU can be part of it all!
A bit more on Sara:
Sara oversees industry and broker relations, membership development and strategic initiatives for the California Association of REALTORS®. She is closely involved in the Association's strategic planning efforts and is a well-known speaker in California's real estate community.
Sara is the co-creator of WomanUP!®, C.A.R.'s Women's Initiative designed to close the gender gap in the leadership of real estate firms. In her passion to affect change in this arena, Sara is dedicated to the empowerment of women through research, professional development, events, mentoring, and creating a community of advocates and support.
Sara is also responsible for identifying, building, maintaining, and reaching out to California Brokers in order to gain insights and spot emerging trends in the industry. In this role, she helps the Association establish vision, identify new and emerging opportunities and relationships, and is responsible for implementing key strategic initiatives.
With a background in real estate finance and consumer research, she continues to provide significant input, analysis, economic theory and interpretation to housing market trends with specific emphasis on real estate finance.
---
WHY DOES WomanUP!® EXIST?
Although the WomanUP!®  was sparked in California to inspire women to step into brokerage leadership in the state, C.A.R. is now taking it across the nation!
WHO IS PART OF THE WomanUP!® MOVEMENT?
It's for women who already own and lead a real estate brokerage.
WomanUP!® is a community where you can mentor, share your experiences, your best practices, your failures, and your wisdom. This community is here to support you on your brokerage leadership journey and help you build a brighter tomorrow inside your organization.
It's for women who want to own and lead a real estate brokerage.
WomanUP!® is a community for you to come and learn from experienced brokerage owners and leaders. It's a place where you will hear best practices, embrace the power of failure, and learn from the brilliant, collective wisdom.
It's for everyone who wants to support and empower these woman.
We recognize that not everyone wants to be a brokerage owner, but there are so many out there who want to support women who are and do. WomanUP!® is for you, too.

WHAT DOES THE WomanUP!® COMMUNITY OFFER?
Our community (both online and offline) is a place for you to come and support, encourage, educate, and learn from these women.
WomanUP!®  community members seek out our events because they crave a community that is based on cultivating a learning mindset, exploring opportunities to contribute, embracing strengths, and surrounding yourself with supportive people.
Join us on our Facebook Group and be sure to connect with us over on Instagram!
SHARE YOUR STORY INITIATIVE 
We are currently seeking to uncover hidden stories of women in brokerage leadership in the state of California. If you are or know an awesome brokerage owner/leader in another state, we would LOVE to know about her, too.
Please fill out the form here.
WANT TO SPONSOR WomanUP!®?
Join us a local, regional, or national sponsor and help us take the mission across the country!
WANT TO BRING THE WomanUP!® TO YOUR REGION?
We want to make it easy as possible for you to bring the WomanUP!® Movement's message and mission to your region! Our team will work with you to put together.
WHAT'S THE DATA BEHIND THE WomanUP!® MOVEMENT?
We are excited to release our white paper, "C.A.R.'s Women's Initiative: How Women Brokers are Reinventing Leadership in the 21st Century". In it, C.A.R. evaluates data from its 2017 Membership Survey, National Association of REALTORS®, the California Bureau of Real Estate (CalBRE), Inman and Bernice Ross also interviews a cross-section of California's women brokers and presents her research.
---