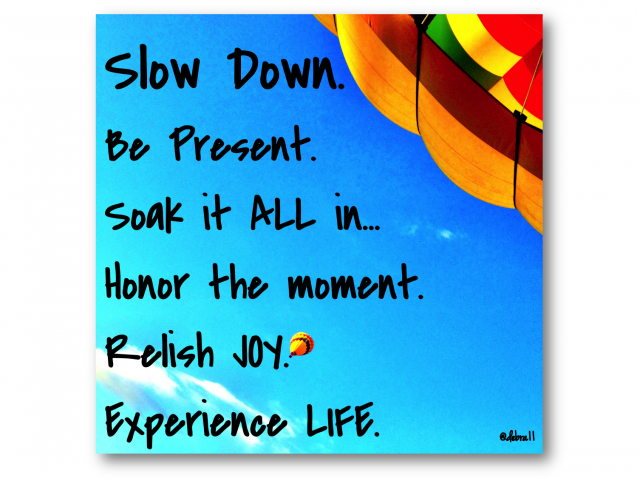 07 Sep

#FireMeUp11: The Importance of "Soaking it ALL In"!

Wow.

The last two weeks have been beyond blessed with fabulous days and nights filled with love, laughter, oodles of adventures, and a lesson learned (okay, relearned).

"Taking Time" was a birthday gift I decided to give myself this year. To (dare I type it) FOCUS ON "ME" (there, I did it) and revel in the celebratory moments loved ones had taken the time to carefully create and prepare for me.  Yes, I did TAKE TIME to soak in and truly experience the celebrations and honor the memory-making moments.

Yes, it was divine… 

However, I can't deny it and am compelled to share this:

It was sometimes uncomfortable.  

From time to time there were thoughts that would pop in my mind like:  

"I hope they didn't go to too much trouble to put all of this together."
"Oooooh, I need to mail that letter or package."
"I must write a blog post – it's been a week!"
"Those pictures NEED to be posted on Facebook…"
"I really should answer that email…" 

You get the idea.  

Well, the first thing I did to pull myself out of these spirals was to go back to my sacred connection to 11; to use it as my reminder to relish the joy. Every single time I saw the number 11 I was reminded to slow down and be present.

Then I decided to challenge myself with questions like these: 

"Would your loved ones want you worrying about such things?"
"Does it really matter WHEN you post those photos or your next blog post?"
"Seriously, can this wait or will the world stop if you don't do it?"

100% of the time my 'concerns' were quelled. 

Of course true friends won't forget me… 
No, it really DOESN'T matter when those photos go up…
Yes, it could wait… 

And it did.  

ALL OF IT.

There is a lovely stack of packages ready to be delivered to the post office today, two returns that need to be made, and a ton of content – including webinars, blog posts, and chapters for a book that need to be written.  

It all waited for me to enjoy my life and to allow loved ones to create marvelous memories with me.

The world did not end because I took time.

So often we shy away from taking time to melt into our life's moments because we are worried what other people will think; or wonder if we are truly worthy of the experiences; or even focus on what else we might miss if we do!  We focus on scarcity, not abundance.  

My lovely friend, Rosemary Phinney Buerger, and I were chatting on Facebook about my adventures and she summed it up so beautifully:
"That's how life is supposed to be. Filled with those moments that, on the grey days, bring light and love to us."


I will leave you with a few questions to inspire and challenge you today:


What REAL MOMENTS will YOU revel in today?  

Where will you go to create memories with loved ones?

How will you remind yourself to melt into your moment?


Enjoy the adventures ahead… Cheers!