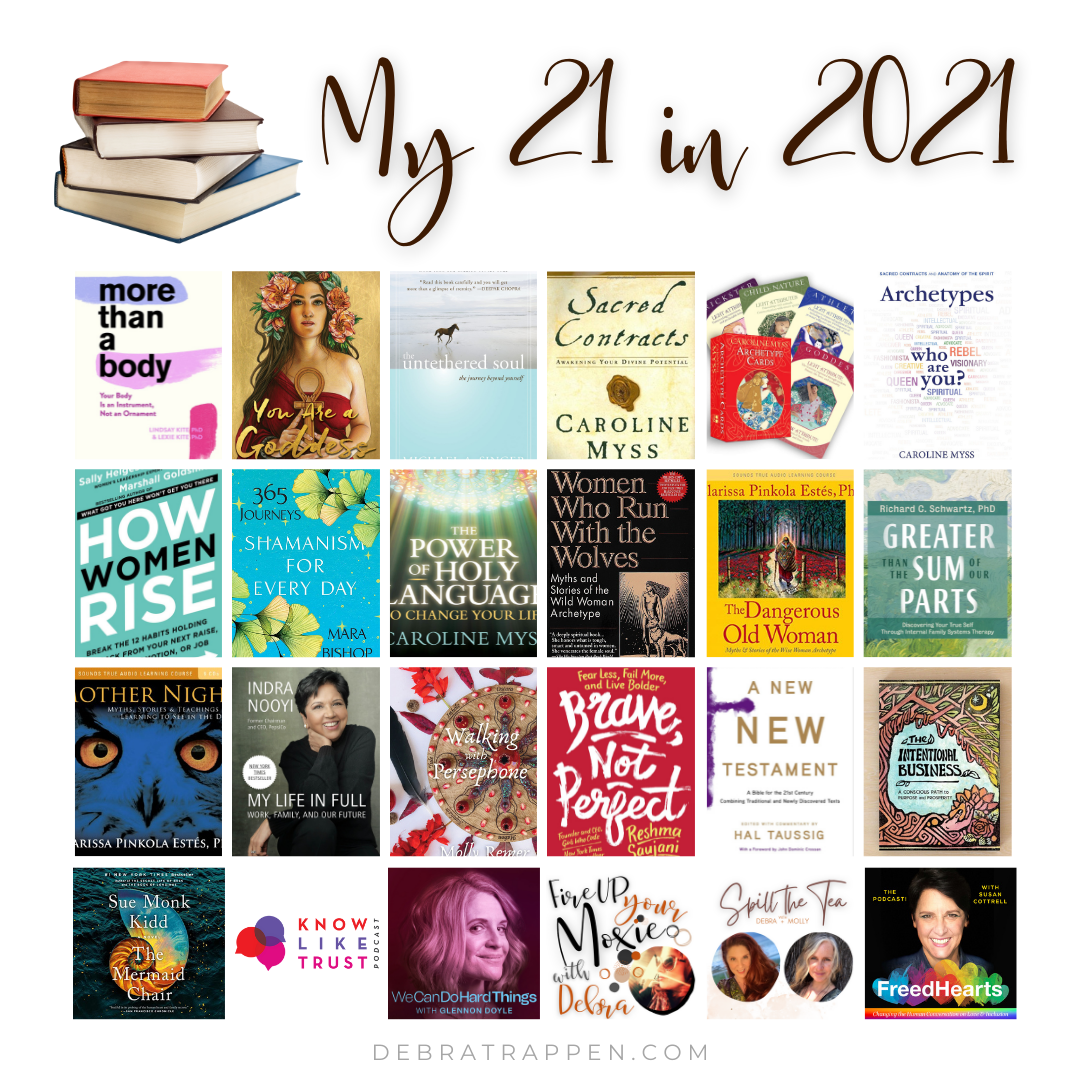 21 Feb

My 21 in 2021

Here are the top 21 books and podcasts that kept me company and stoked the fire within my soul in 2021. These were my favorite companions on the thousands of miles I walked and rode while seeking sacred moments to keep me sane.

If you have read any of these, I would love to hear what you loved about them… if you choose to read any of these this year – I look forward to chatting with you along the way.

xxoo
---
1: More Than A Body: Your body is an instrument, not an ornament. 
Authors: Dr. Lindsay Kite & Dr. Lexie Kite
These two women will fill your feed with research and quotes to help you on your Body Resilience journey!
"Our beauty-obsessed world perpetuates the idea that happiness, health, and the ability to be loved are dependent on how we look, but authors Lindsay and Lexie Kite offer an alternative vision. With insights drawn from their extensive body image research, Lindsay and Lexie—PhDs and founders of the nonprofit Beauty Redefined (and also twin sisters!)—offer an action plan that arms you with the skills you need to reconnect with your whole self and free yourself from the constraints of self-objectification."
Grab your copy here.
Listen to the book here.
Follow them on IG.
2: You Are a Goddess: Working with the Sacred Feminine to Awaken, Heal and Transform
Author: Sophie Bashford
In this highly engaging and stirring book, leading intuitive Sophie Bashford takes you on a journey to meet nine Goddess archetypes, which will help you to:
understand the many ups and downs, emotions and cycles of your life through the 'eyes of the Goddess'
discover how the Goddesses can ignite your spiritual growth and uncover your feminine healing gifts
learn how to work with each Goddess for self-healing, positive inner change and empowerment
get in touch with a divine feminine support and healing system comprising nine archetypes – including Kali, Mary Magdalene, Aphrodite and Isis
Molly and I did an entire Summer Book Club Series on Spill the Tea about each chapter.
You can listen to them all here.
Grab your copy here.
Listen to the book here.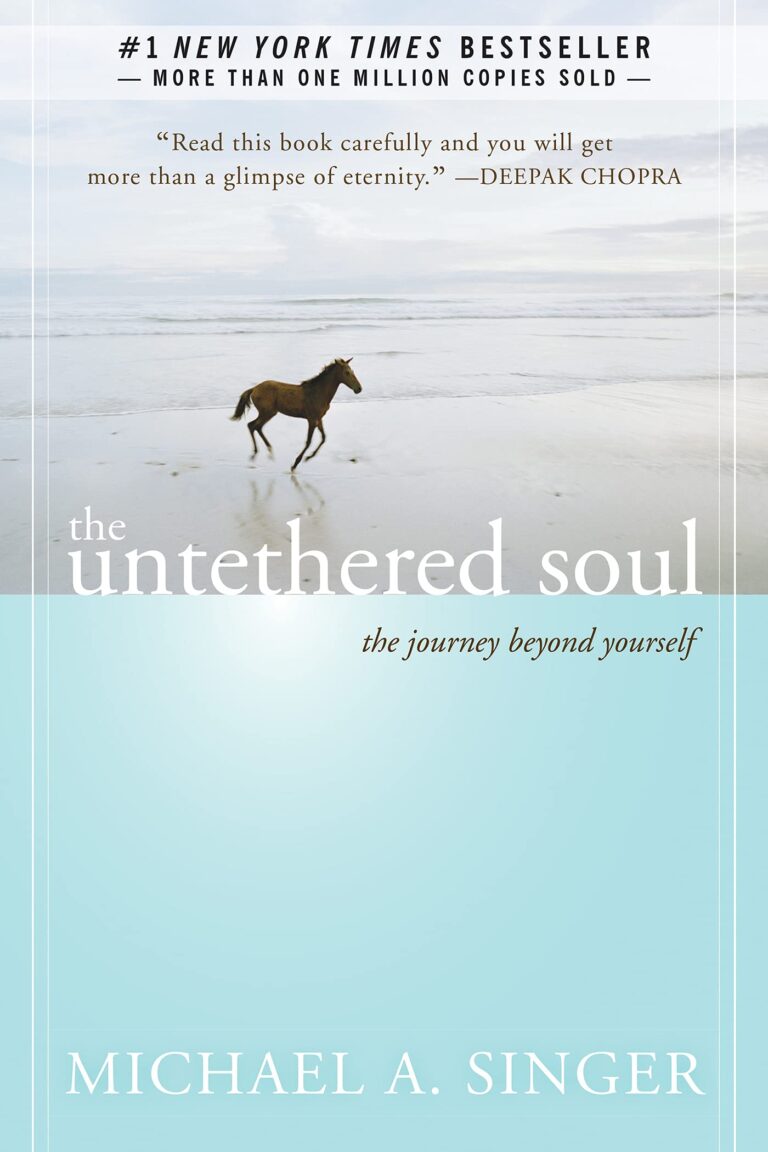 3: The Untethered Soul
Author: Michael Singer
This book helped me release pockets of pain and learn to keep my heart OPEN.
"Whether this is your first exploration of inner space, or you've devoted your life to the inward journey, this book will transform your relationship with yourself and the world around you. You'll discover what you can do to put an end to the habitual thoughts and emotions that limit your consciousness. By tapping into traditions of meditation and mindfulness, author and spiritual teacher Michael A. Singer shows how the development of consciousness can enable us all to dwell in the present moment and let go of painful thoughts and memories that keep us from achieving happiness and self-realization."
Grab your copy here.
Listen to the book here.
4: Sacred Contracts
Author: Caroline Myss
With her signature motivational style and stories, Myss explains how you can identify your particular spiritual energies, or archetypes—the gatekeepers of your higher purpose—and use them to help you find out what you are here on earth to learn and whom you are meant to meet. In coming to know your archetypal companions, you also begin to see how to live your life in ways that make the best use of your personal power and lead you to fulfill your greatest—in fact, your divine—potential.
Grab your copy here.
Listen to the book here.
5: Archetypes 
Author: Caroline Myss
In Archetypes: Who Are You?, New York Times best-selling author Caroline Myss delves into the world of archetypes, which have been the subject of her work for more than 25 years. Archetypes are universal patterns of behavior that, once discovered, help you better understand yourself and your place in the world. In short, knowing your archetypes can transform your life.
Within the pages of this book, Myss writes about ten primary feminine archetypes that have emerged in today's society: the Caregiver, the Artist/Creative, the Fashionista, the Intellectual, the Rebel, the Queen/Executive, the Advocate, the Visionary, the Athlete, and the Spiritual Seeker. In each chapter, she explains one individual archetype, showing how it has evolved and then in fascinating detail lays out the unique characteristics, the defining graces, the life challenges, and other information to help you understand if you are part of this archetype family and if so, how you can fully tap into its power.
Grab your copy here.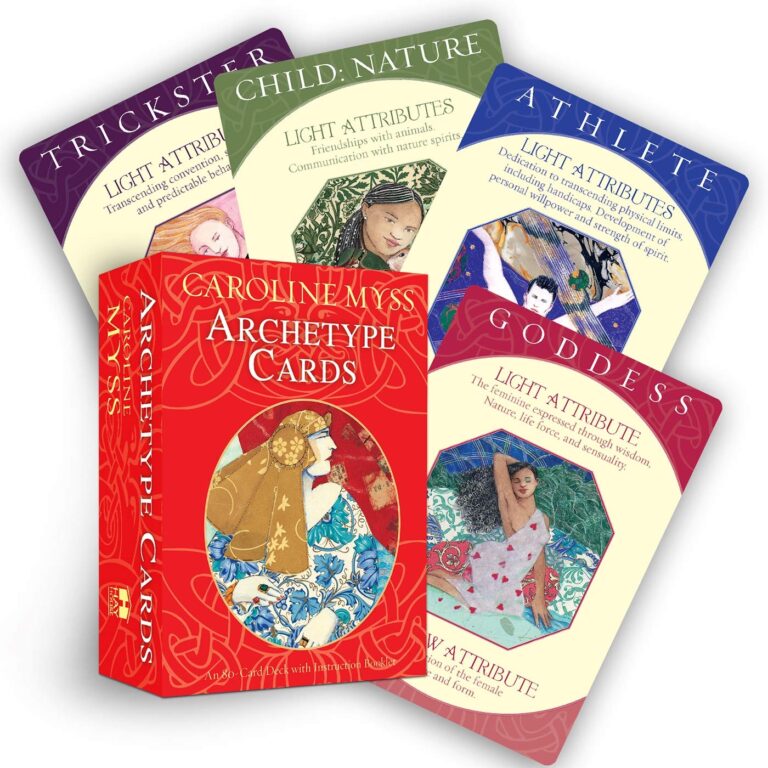 Listen to the book here. 
Bonus 5b: Grab a set of Caroline Myss' Archetype Cards.
6: How Women Rise
Author: Sally Helgesen and Marshall Goldsmith
"Leadership expert Sally Helgesen and best-selling leadership coach Marshall Goldsmith have trained thousands of high achievers – men and women – to reach even greater heights. Again and again, they see that women face specific and different roadblocks from men as they advance in the workplace. In fact, the very habits that helped women early in their careers can hinder them as they move up. Simply put, what got you here won't get you there…and you might not even realize your blind spots until it's too late."
Grab your copy here.
Listen to the book here.
7: Shamanism for Every Day * 365 Journeys 
Author: Mara Bishop
For thousands of years, practitioners of shamanism have found healing and wisdom by connecting to their own spirits and the spirit that lives in all things. Shamanism can be practiced by anyone. Wherever we are, the powers within the web of life and the keys to our personal evolution are available. In these pages, longtime shamanic practitioner and intuitive consultant Mara Bishop introduces the simple yet profound method of shamanic journeying. 
On this path you will: 
Connect to your innate knowing, for calm and confidence in intense times. 
Develop meaningful relationships with nature for healing and guidance.
Explore spiritual realms with the aid of compassionate spirits. 
Learn to manifest your goals and visions through ceremony.
With 365 unique journey topics that can be used in any order, or as meditations, Shamanism for Every Day offers an invaluable guide to anyone searching for a daily connection to the sacred.
Grab your copy here.
Listen to the book here.
8: The Power of Holy Language to Change Your Life
Author: Caroline Myss
You will never look at or speak out words the same. We walk on holy ground and speak life with each word we speak.
"In these original audio sessions, Myss brings us a new chapter in her life's work: how holy language awakens the full emergence of who we truly are and empowers us to transform ourselves, individually and collectively, in the material, energetic, and spiritual dimensions.
At the heart of these teachings lies a simple yet profound insight: When the Divine comes to us, we must move past fear and be ready to grasp its unique ways of guiding and changing us.
"Every word you utter," Myss says, "is an act of creation unto itself." Here, with compassion and uncommon vision, she explores the hidden depths of familiar words such as love, trust, covenant, and mercy; how faith and intention animate our prayers; how nature is ordaining us through the process of organic divinity; new insights into "spiritual crisis" and "the dark night"; the reality of miracles; and more."
Purchase the audio sessions here. 
9: Women Who Run with the Wolves
Author: Dr. Clarissa Pinkola Estés
"Drawing from her work as a psychoanalyst and cantadora (keeper of old stories), Dr. Estes uses myths and folktales to illustrate how societies systematically strip away the feminine spirit. Through an exploration into the nature of the wild woman archetype, Dr. Estes helps listeners rediscover and free their own wild nature."
Grab your copy here.
Listen to the book here. 
10: Dangerous Old Woman: Myths and Stories of the Wise Woman Archetype
Author: Dr. Clarissa Pinkola Estés
"Dr. Estes asks, "Did you know, you were born as the first and the last and the best and the only one of your kind, and that eccentricity is the first sign of giftedness? Those are two of the crone truths I have to offer you."
If you have any doubt, come join us at the fireside of the "Dangerous Old Woman" for the soul-healing wisdom that will ignite your creativity and support your highest calling in life – to become a dangerous old woman of wisdom yourself."
Listen to the book here.
11: Greater Than the Sum of Our Parts: Discovering Your True Self
Author: Richard C. Schwartz
"Explore your multifaceted mind – an invitation to personal healing and spiritual awakening.
Inside each of us, there are many distinct selves. "Though we've been raised to believe that healthy people have a single 'self'", explains Dr. Richard C. Schwartz, "acknowledging our multiplicity gives a far deeper awareness of how our minds actually work." Dr. Schwartz's pioneering Internal Family Systems (IFS) therapy has become renowned in psychotherapy for its power to help us connect with and heal the many distinct facets – or parts – of our psyche. With Greater Than the Sum of Our Parts, he brings you a practical training course for using this method for your growth, well-being, and especially your spiritual journey. 
Embracing your inner diversity as a path to wholeness."
Listen to the book here.
12: Mother Night * Myths, Stories and Teachings for Learning to See in the Dark
Author: Dr. Clarissa Pinkola Estés
"Where is the memory of who we really are, who sent us here, and what our work is here? And why so often are we feeling unusual, so different, so eccentric, so belonging to a tribe of one? Dr. Clarissa Pinkola Estes, published in 34 languages and one of the most far-reaching artist-psychoanalysts of our time, teaches that in archetypal imagination, "Mother Night is the quintessential medial woman, the woman who can walk in two worlds… 'the one who knows' and who can reveal solid ways of living and unleashing creative life in both worlds."
Listen to the book here.
13: My Life in Full Work, Family, and Our Future 
Author: Indra Nooyi
"Nooyi takes us through the events that shaped her, from her childhood and early education in 1960s India, to the Yale School of Management, to her rise as a corporate consultant and strategist who soon ascended into the most senior executive ranks. The book offers an inside look at PepsiCo, and Nooyi's thinking as she steered the iconic American company toward healthier products and reinvented its environmental profile, despite resistance at every turn."
Grab your copy here.
Listen to the book here. 
14: Walking with Persephone
Author: Molly Remer
"Midlife can be a time of great change – inner and outer. How do we journey through this…and what can we learn in the process? Molly Remer is our personal guide to the unraveling and reweaving required in midlife. She invites us to take a walk with the goddess Persephone, whose story of descent into the Underworld has much to teach us. This book is a journey of soul-rebuilding, of putting the pieces of oneself back together.
Walking with Persephone weaves together personal insights and reflections with experiences in practical priestessing, family life, and explorations of the natural world. It advocates opening our eyes to the wonder around us, encouraging the reader to both look within themselves for truths about living, but also to the earth, the air, the animals, and plants we share our lives with.
Part memoir, part poetry, part soul guide, Molly's evocative voice is in the great American tradition of sacred nature writing."
We interviewed Molly on Spill the Tea. Watch the episode here.
Grab your copy here at Womancraft Publishing.
Check out her website and Brigid's Grove Etsy Store. 
15: Brave, Not Perfect
Author: Reshma Saujani 
"By choosing bravery over perfection, we can find the power to claim our voice, to leave behind what makes us unhappy, and to go for the things we genuinely, passionately want. Perfection may set us on a path that feels safe, but bravery leads us to the one we're authentically meant to follow. In Brave, Not Perfect, Saujani shares powerful insights and practices to help us let go of our need for perfection and make bravery a lifelong habit. By being brave, not perfect, we can all become the authors of our best and most joyful life."
Grab your copy here. 
Listen to the book here. 
16: The New New Testament
Author: Hal Taussig
"Over the past century, numerous lost scriptures have been discovered, authenticated, translated, debated, celebrated. Many of these documents were as important to shaping early Christian communities and beliefs as what we have come to call the New Testament. These were not the work of shunned sects or rebel apostles, not alternative histories or doctrines, but part of the vibrant conversations that sparked the rise of Christianity. Yet these scriptures are rarely read in contemporary churches; they are discussed almost only by scholars or within the context only of gnostic gospels. Why should these books be set aside? Why should they continue to be lost to most of us? And don't we have a great deal to gain by placing them back into contact with the twenty-seven books of the traditional New Testament—by hearing, finally, the full range of voices that formed the early chorus of Christians?
To create this new New Testament, Hal Taussig called together a council of scholars and spiritual leaders to discuss and reconsider which books belong in the New Testament. They talked about these recently found documents, the lessons therein, and how they inform the previously bound books. They voted on which should be added, choosing ten new books to include in a new New Testament. Reading the traditional scriptures alongside these new texts—the Gospel of Luke with the Gospel of Mary, Paul's letters with The Letter of Peter to Philip, The Revelation to John with The Secret Revelation to John—offers the exciting possibility of understanding both the new and the old better. This new reading, and the accompanying commentary in this volume, promises to reinvigorate a centuries-old conversation and to bring new relevance to a dynamic tradition."
Grab your copy here. 
17: The Mermaid Chair
Author: Sue Monk Kidd
"The Mermaid Chair is a vividly imagined novel about the passions of the spirit and the ecstasies of the body. It illuminates the awakening of a woman to her own deepest self with a brilliance and power that only a writer of Kidd's ability could conjure."
Listen to the book here.
18: Podcast: We Can Do Hard Things
Podcasters: Glennon Doyle, Abby Wambach, and Amanda Doyle
These three amazing women dig into the topics that remind us – we can do hard things!
Find all the places to listen here. 
19: Podcast: Know Like Trust
Podcasters: Christine George and Betti Russo
As social media marketing junkies, real estate professionals, and women with a combined 60 years of business experience, Christine and Betti have met some of the most incredible people in the real estate and social media marketing space. During each episode, they share their experiences, tools, and tips, and those of our expert guests on how to live, work and thrive with a Know, Like, Trust mentality.
Find all the places to listen here.
20: Podcast: Fire Up! Your Moxie Podcast
Podcasters: Debra Trappen + Molly McKinley
The Fire Up podcast is a mixture of 1:1 #MoxieChats w magnificent women, the Spill the Tea w/ Debra + Molly series, #MoxieAffirmations to elevate your thinking, and more to engage, elevate, and empower you.
Check out past Moxie Chats with my magnificent guests here.
Check out past Spill the Tea episodes with Molly here.
Find all the places to listen to all of the shows here.
21: Podcast: Freed Hearts  
Podcaster: Susan Cottrell
Changing the human conversation of love and inclusion. Susan Cottrell is the Mom of two LGBTQ children; the founder of FreedHearts; an international speaker with a viral TEDx talk; a pastor and theologian; an acclaimed author; and a fierce advocate and ally. In her unique tender, relatable style, Susan is a prominent voice of unconditional love and lavish inclusion.
Listen to the show here.
Learn more about Freed Hearts here.
BONUS: A reminder and highlight from last year's list…
The Intentional Business
Author: Molly McKinley
This is written for anyone who has sat around a board table, a leadership table, or a conference table and wondered why we have to play by this set of rules we inherited.
For anyone who looked at the faces they were building with and are curious about how in the heck they got here. For anyone brave enough to listen to their bones crying out for a different way or a new path for doing business that values more than growth for the sake of growth alone.
This book is for you, the female entrepreneur, who has been unheard, marginalized and unfunded. Yet, you still persist with a vision for a business that can create right living for yourselves and your family. Where your business itself is aligned with your values, where your time and energy is well-spent and also gives back to the community it serves.
Grab your copy here.
Check out my 2020 List
I am building my list for 2022…
What are some of your favorites you'd recommend?