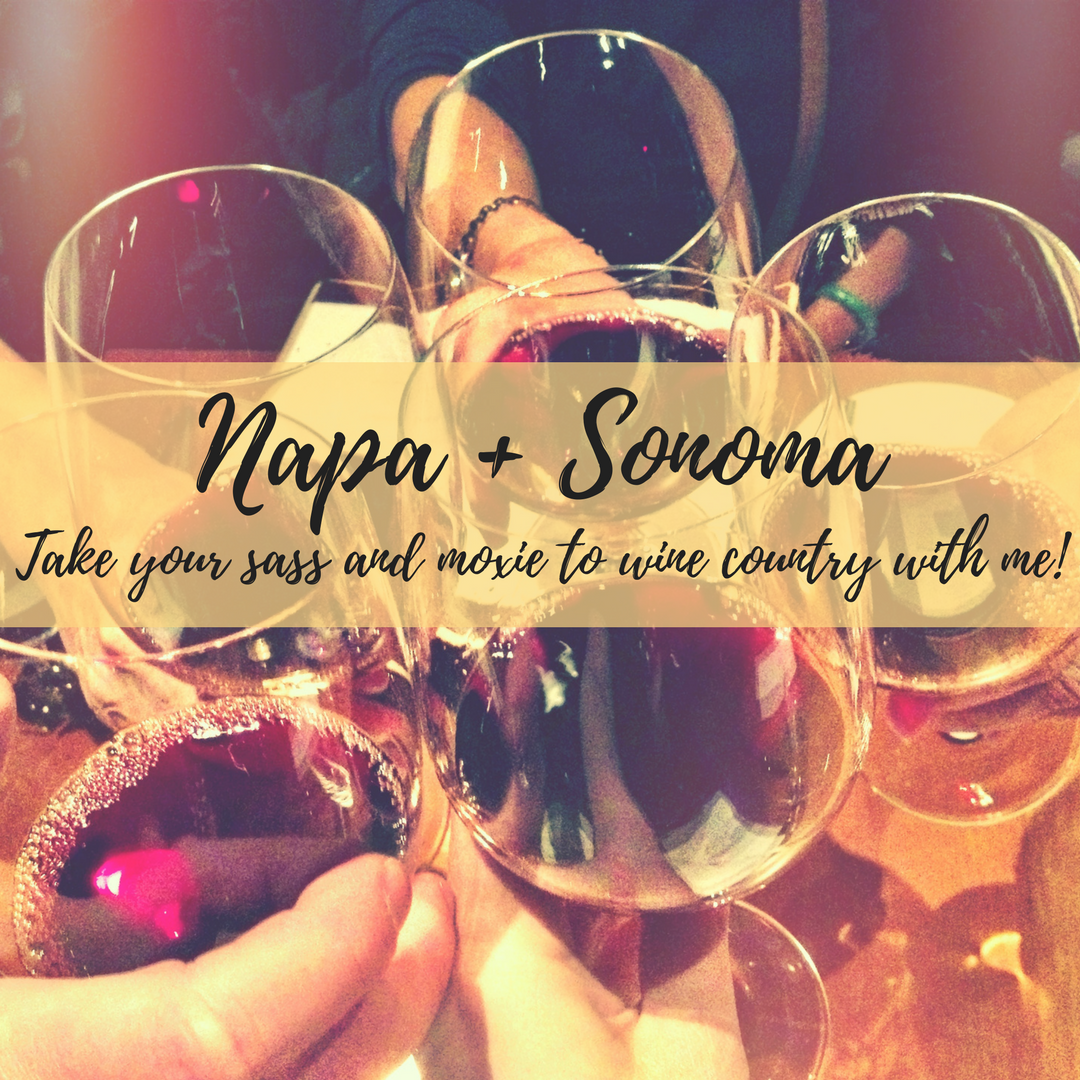 11 May

Take Your Sass + Moxie To Wine Country With Me!

This post is TOTALLY off my normal topic, but I am asked a question ALL THE TIME because of my passion project – Women On Wine TV!

The question—> What are my favorite wineries/places in Napa and Sonoma?

This is an IMPOSSIBLE question to answer. Choosing a favorite wine or winery is like choosing your favorite child.  They are all different and divine – in their own special way.

So here are some of my favorite experiences along the way. I promise this post will change and grow with each visit to my beloved Wine Country.

Santé,

---
Napa… Oh, Napa.
Wineries
Round Pond Estate
roundpond.com
Their gorgeous patio area is right out of Tuscany and their paired tastings use their own fresh pressed olive oil! The blood orange is to die for… WOW.
Don't miss the photo ops around the property, including this giant fireplace!
Tres Sabores
tressabores.com
Amazing tour, great place for a picnic, and the winemaker (a woman) is sooooo passionate about the story of her wine – it takes your breath away!! Oh, and they have SHEEP!
Chimney Rock
chimneyrock.com
The tour is phenomenal and super informative.  If Matt is there on the day you visit – request him!
If not, be sure to give yourself a self-guided tour and check out this magnificent property.  The room pictured here is where they host fab private events…
They are known for their DIVINE Cab Sauvignon – especially their Tomahawk!
Darioush
darioush.com
EXQUISITE experience.
Schedule a private wine tasting and pairing… it is worth every penny!  Depending on the number of people in your group, you may be able to reserve the winemakers room – pictured here.
Raymond Vineyards (So Much MOXIE!)
Bubbles and Reds are their SPECIALTIES!  They also have the most AMAZING grounds. Be sure to tour the MOXIE-PACKED red room (oh my word!), see the crystal, walk thru the gardens, meet the animals and experience the Corridor of Senses!
One of our Women On Wine TV Adventure stops was here, read more on that in this post…
Napa Valley Restaurants
Bouchon Bistro
thomaskeller.com/bouchon-bistro-yountville
Delicious Brunch location!
French Laundry
SPECIAL OCCASION meal – totally worth every penny – must have a reservation!
FARM
thecarnerosinn.com/dining/farm-restaurant
One of the best meals I have ever had in Napa! Perfectly timed, 4-hour experience!
Some of the better resources I have used, along the way: napavalley.com
Storytelling of the magnificent people behind the food and wine in Napa:  thewinesiren.com
---
---
Sonoma
Where we tied the knot forever…
Wineries
Buena Vista
Their gorgeous grounds and original buildings have had extensive renovation.
They have a WHITE BUBBLE ROOM!
Do not miss this. They have SASSY, FUN PROPS!
St. Francis Winery
We celebrated my niece Aubrey and her now hubby, Alex, at this winery. Alex's Mom and her hubby, Joel, scheduled a killer tour of this place.  So much history… so many wines… My fave pour here was the 2016 Rosé. Mmmmmm!
Deerfield Ranch
Serious CAVE experience here! Lots of comfy couches to taste, sip and savor.
The farming style is organic and biodynamic.

Gundlach Bundschu (aka GunBun)
Gorgeous views. The Cab Franc is stellar.
Do a chocolate pairing here.
They also have picnic snacks you can purchase!
Iron Horse Vineyards (off the beaten path!)
Another amazing view… bubbly, romance, pinot noir, and chardonnay.
Gloria Ferrer Caves & Vineyards
Drew and I visited this place the day after we were married.  They were warm, inviting, and graciously gifted us the most colorful champagne flutes I have ever seen.  GF will always hold a special place in my heart… and in my long stems. ;)
Need more info? Champagne Caves and delish nibbles – on the patio – with a stellar view. Enough said.
Sonoma Restaurants
Cafe Citti
A little hole in the wall (in Kenwood) with some of the BEST Caprese Salad and Polenta I have ever tasted. They do "TO GO" food, as well as casual dining inside and on the patio.
Drew and I hosted our Rehearsal Dinner here in 2003 and stop by for picnic nibbles whenever we are in town.
I sobbed deeply when the Sonoma fires were raging. PRAYED some serious prayers to Jesus to not take our special place. I must have called their number a thousand times until someone finally answered and told me the restaurant survived.  Go here. Love on these people. They will love you back – tenfold.
the girl and the fig
Fabulous and French. If you are a Francophile – this place is for you! :)
El Dorado Kitchen
Cocktails. Brunch. Small Plates.  This place is foodie HEAVEN.
---
Yountville Faves…
Cornerstone Cellars (winery)
cornerstonecellars.com
Their Cab Franc and Howell Mountain Cabernet Sauvignon are +11!
MA(i)SONRY
maisonry.com
One of the most efficient ways to taste wine in the Valley… *wink*  They have oooooodles of boutique wines to sip and exquisite art throughout the building!
Redd-Wood (eats)
redd-wood.com
Casual, scrumptious wood-fired pizzas and Italian eats!  Awesome for a large, hungry group that spent the day wine tasting.
Bardessano (HOTEL)
bardessono.com
Oh My Word!  Drew and I stayed here for an anniversary. The location and staff exceeded our expectations!  If you are visiting Wine Country – check this place out.  You are welcome. ;)
Comments
comments