25 Jan

Spill the Tea: Jacci Turner. Mary Magdalene. The Threshold Archetype.

Podcast: Play in new window | Download

Subscribe: Apple Podcasts | Google Podcasts | Spotify | Pandora | Stitcher | RSS
---
We had a special guest this week!
Jacci Turner joined us for an Author Chat. We will be discussing Mary Magdalene and The Threshold Archetype Cards… as well as her MANY books, her divine blog, and what life holds for her in her next season of being UNtethered by a "job"!
Jacci lives with her husband in Nevada's high desert. They spend their mornings hiking through the sagebrush with their dog, Rosie.
Jacci loves chocolate, babies, and coffee with friends. She's worn many hats in her lifetime: therapist, school counselor, campus minister, and mom. Her favorite hats are her writer and grandmother hats, which come in wild colors and don't fit too tightly.
This Week's Archetype: The Threshold
This Week's Divine Woman Spotlight: Mary Magdalene
Links We Shared During The Show
Jacci's Website: https://www.jacciturner.com
Jacci's Blog: https://jacciturner.wordpress.com
Jacci's Books We Discussed:
Great Emergence by Phyllis Tickle
Sacred Earth, Sacred Soul: Celtic Wisdom for Reawakening to What Our Souls Know and Healing the World by John Philip Newell
Oodles of links here: https://linktr.ee/jacciturner
Spiritual Practices Blog Series by Jacci Turner
Reading her words was like sitting alongside a spiritual guide…one lovingly holding my hand while I questioned and unlearned so many things. I am forever grateful.

Start with the first one in the series here.
You Are A Goddess by Sophie Bashford
She shares wisdom and the background of 9 amazing female archetypes who will inspire and ignite the fire inside you!
https://www.sophiebashford.com 
Mary Magdalene Revealed by Meggan Watterson
Furthered my journey of digging deep into the Divine Feminine Energy – and helped me see 
https://www.megganwatterson.com
Debra's Full Moon Ritual Post:
https://www.divinesoulfire.com/wolf-moon-22
Pour your favorite beverage, pop in your earbuds, snuggle into your coziest spot (or head outdoors for a walk), and get ready to share breathing techniques, meditation moments, and a conversation woven together with love and friendship – highlighting our favorite women in the Divine Feminine card deck and new archetypes from the book – every week!
---
Want to watch the replay or grab the links shared?
https://www.facebook.com/d11fireup/videos/1322859218231861
•  •  •  •  •  •  •  •  •  •  •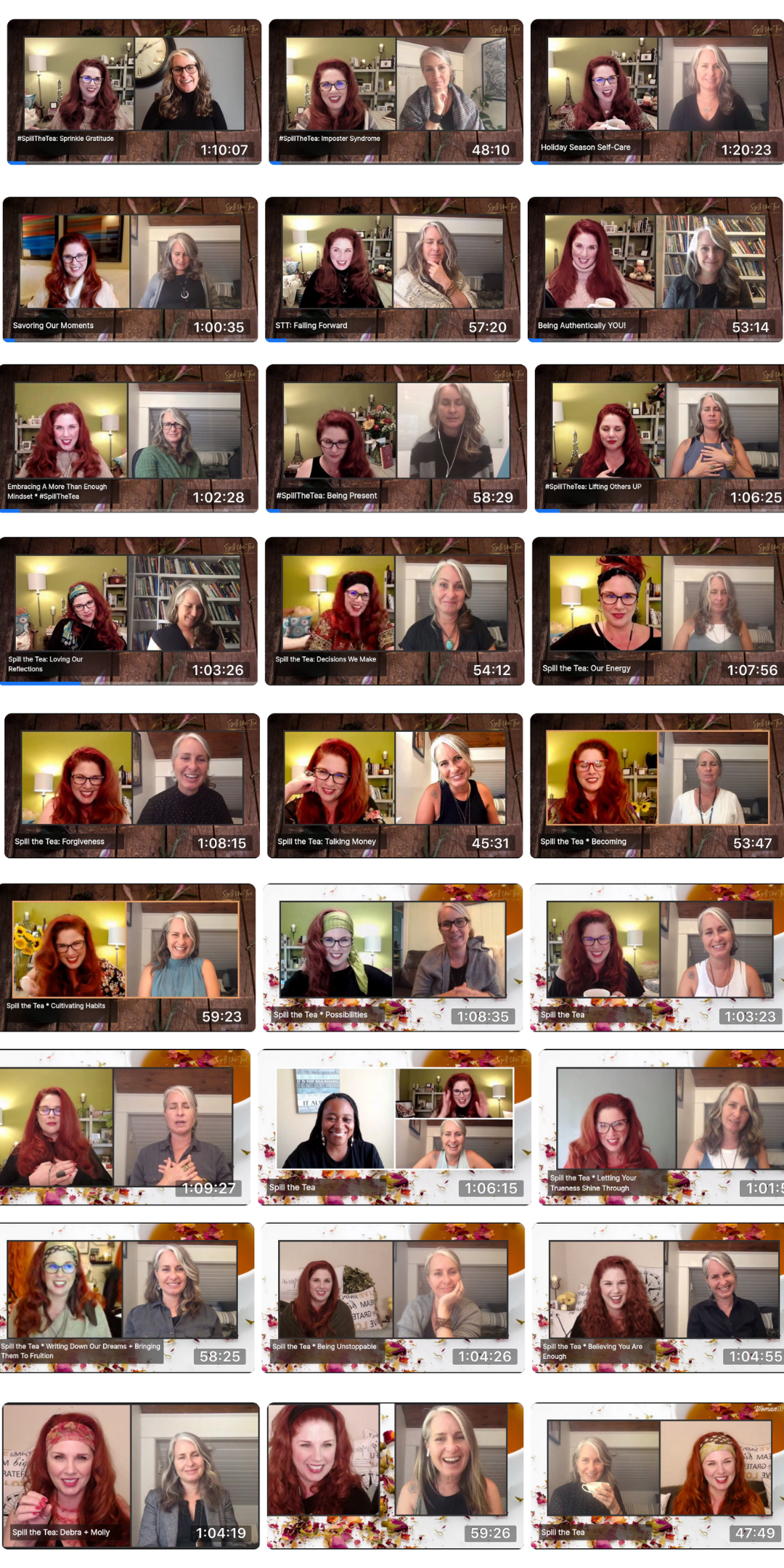 What is Spill the Tea?
One of the many fun collaborations between Molly McKinley and Debra Trappen!
Nearly every week, we get together to sip tea, do some breathwork, recite affirmations, lead meditation moments, and have a conversation about what we're reading, seeing, or doing… all with a focus on keeping a balance of divine feminine + masculine energies at our table.
Most of the time it is the two of them… sometimes they have a fellow soul-centered author or entrepreneur join the conversation! 
Take a moment to pour your favorite beverage, pop in your earbuds, and snuggle into your coziest spot (or head outdoors for a walk), and listen in on this hour of togetherness.
Learn more about MoxieOnFire.com – another exciting collaboration.
Learn more about Intentionaliteas, Molly's tea company.
xxoo