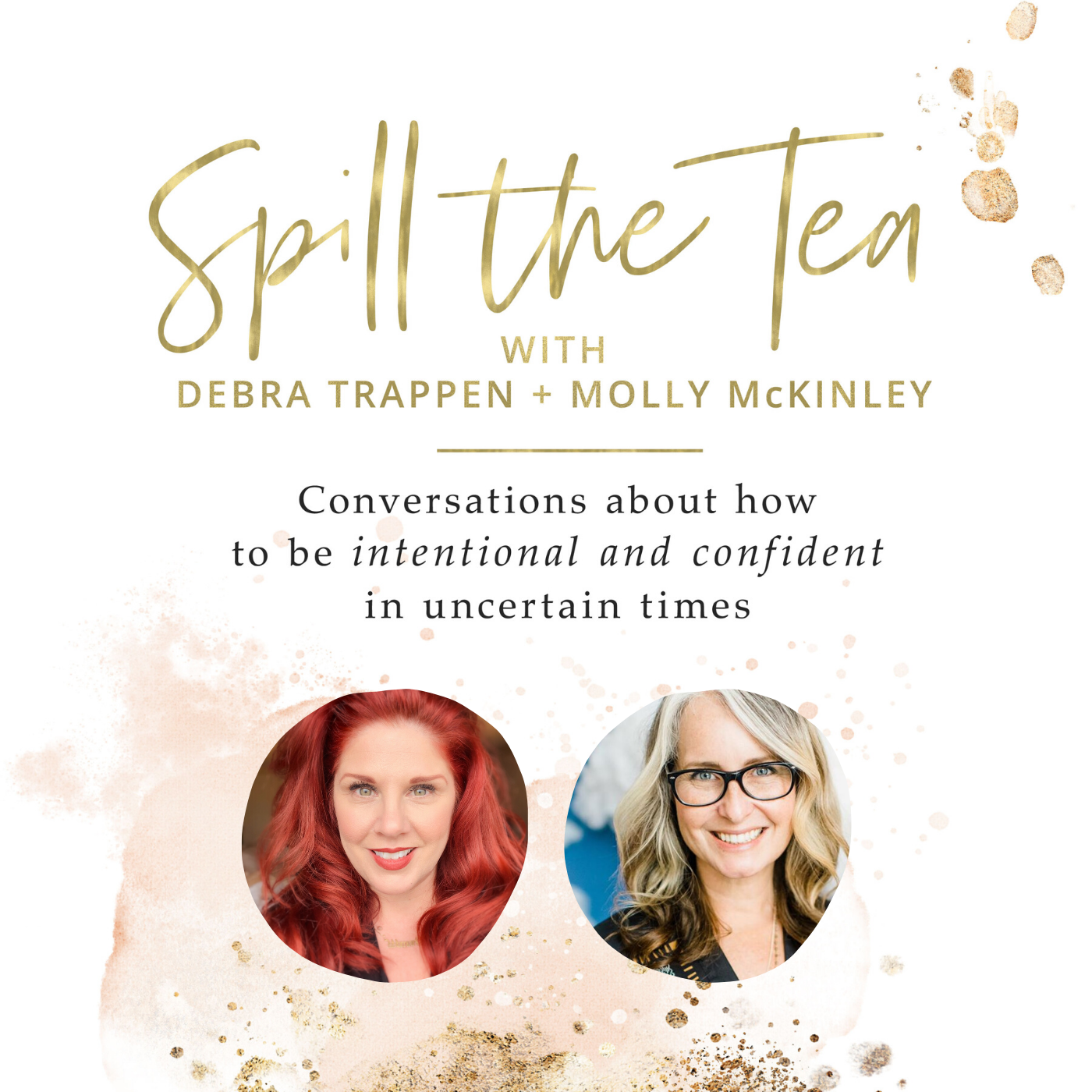 26 May

Spill the Tea: Letting Your Trueness Shine Through

Podcast: Play in new window | Download

Subscribe: Apple Podcasts | Google Podcasts | Spotify | Pandora | Stitcher | RSS

This week's topic is: Letting Your Trueness Shine Through

When you are authentic, it allows others in and attracts people and opportunities to you like a magnet. When you fake it, you are sending out a bat signal that attracts people you are not meant to serve or do life with… AND, the people who are here to help you thru this season can't find you.

Join Debra + Molly for a chat about this divine knowing… and how to embrace it!

Pull out your sassiest teacup, brew your favorite tea blend, snuggle into your coziest spot, and listen in on this hour of togetherness…

Molly kicks us off with a guided breathing exercise. 

What's in your cup? Snap a pic of you and your teacup and share what's in yours!

Debra is sipping one of her favorites, the Candy Cane Tea from Trader Joe's!

Molly is drinking the SUMMER blend from Intentionaliteas. 

Debra and Molly share their thoughts on this week's topic. 

Living authentically requires you to know your values, understand what fills your soultank, and uncover your purpose. If you haven't started this process… start here.

Words from Debra:
Lioness, it's ok if someone doesn't get you. In fact, it is a gift.
Not everyone is going to want, like, accept, or know how to receive your energy.
You know who will get you?
You know who's meant to speak into your life?
Those who share and/or honor your values.
Those who fill your soultank and want to see it full.
Those who love and respect your purpose and help you live it out loud!

Those you are meant to serve will get you.
Please, make peace with this deep knowing, Lioness.
Release the world's definition of perfection.
Embrace your wild, divine feminine spirit.

Before we say ciao for the afternoon… Molly shares a guided meditation!

Want to watch the replay over on Facebook?

•  •  •  •  •  •  •  •  •  •  •

What is Spill the Tea?

One of the many fun collaborations between Molly McKinley and Debra Trappen!

Molly is the CEO of Intentionaliteas and host of the Afternoon Tea podcast, so in honor of our shared love of tea – pull out your sassiest teacup, brew your favorite tea blend, snuggle into your coziest spot and listen in on this hour of togetherness.

Get ready to hear us sharing ideas to, best practices around, and (of course) highlighting our favorite people, brands, and initiatives positively serving humanity and sprinkling JOY over their slice of the galaxy!

It is our heart's desire to provide a lens for focus, a place to uncover the opportunities that abound. and create a moment to embrace grace and gratitude as we celebrate the beauty that is swirling around us. 

Let's all go forth and lead with love, trust, and faith.  

Learn more about MoxieOnFire.com – one of our other exciting collaborations!
---