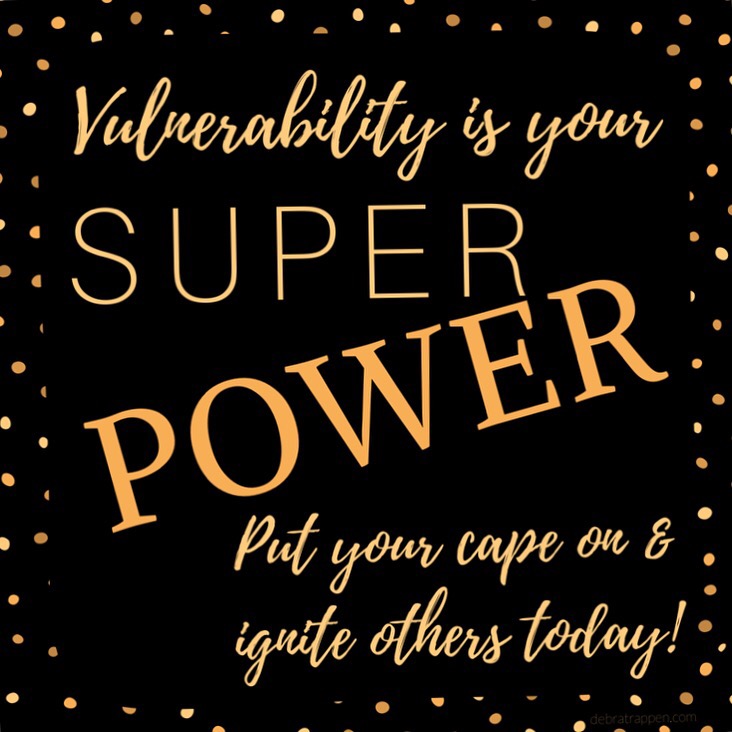 11 May

Vulnerability Is Your Superpower!

Podcast: Play in new window | Download

Subscribe: Apple Podcasts | Google Podcasts | Stitcher | RSS
---
Let's talk about vulnerability.
Vulnerability can be a scary word.
Even reading the definition can give pause
… listen to this:

Vulnerability
is the quality (or state of being exposed to the possibility) of being attacked or harmed, either physically or emotionally.
It can feel heavy and exposing.
However, vulnerability is also a superpower.
Far too many people are hiding behind a mask of insecurity, fear, and perfectionism.
When we let people into our REAL story, magic happens.
When we choose our life tribe carefully – healing, deep understanding, and growth abound.
Giving of our time and talents is a joy… not something we tally.
Today, I encourage you to take a moment to look around, pay attention to who is in your life, and make the adjustments you KNOW you need to make to get you to the next level.
Maybe it is sharing less time with a negative friend or unfollowing someone on Instagram who posts things that go against your beliefs.
I promise once you do the work to surround yourself with good people and good word – the new thing waiting for you will have the margin to bloom!
xxoo
Listen to the podcast: