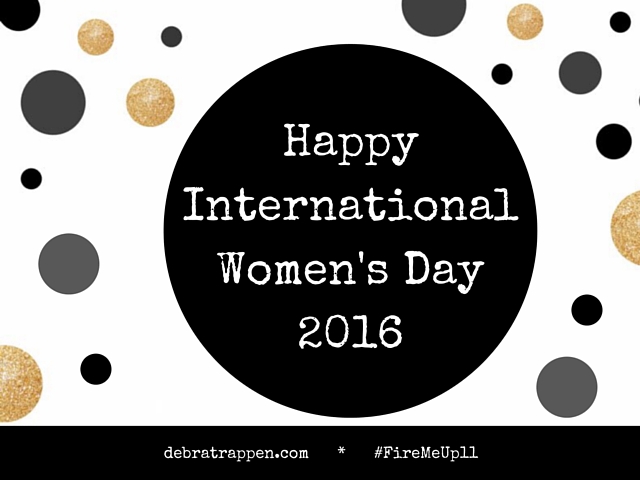 08 Mar

Celebrating and Honoring International Women's Day 2016

Here we are again.  It's International Women's Day 2016.

What is IWD, you ask?

International Women's Day (March 8) is a global day celebrating the social, economic, cultural and political achievements of women. The day also marks a call to action for accelerating gender parity.

This year, the organization's theme is PLEDGE FOR GENDER PARITY!

Hashtag: #PLEDGEFORPARITY

Want to join the pledge?

They put together this fab widget (to the right) to make it super easy!

What is Gender Parity?

Simply put, it is the equality of rank, pay, etc. between men and women who are equally qualified for each.

Accelerating achievement of gender parity within your organization and in business at large is not just a fairness argument but also an economic imperative. Through personal commitment and purposeful action, you can create a ripple effect that not only advances women in the workplace today but also redefines opportunities for future generations. Forge a lasting legacy of growth, increased prosperity and stronger communities throughout the world.

See what a successful Pledge For Parity campaign looks like or read a casestudy.
---
Today, in addition to motivating you to get involved in the pledge, I would like to create some ripples and propose some questions for you to ask yourself ALL YEAR LONG!
1. Do YOU pay the women and men in your organization equally?
Regardless of a yes or now – ask yourself WHY you do or don't.

For example:

Do men ask or negotiate for more?
Do women negotiate or ask for more?
Do you offer men or women more to start?
Which one represents your boardroom or executive team?
2. If you are on a board of directors or executive team – or make hiring decisions for either group:
How many men are at THE table?
How many women?
If the numbers are not even, WHY?Additional talking points:

Instead of thinking men need to be displaced – which is NOT the point:

Have you considered adding more seats to the table to even out the representation?
If it is mostly men at THE table, have you taken into consideration that 85%+ of the home wallet spend decisions are made by women?
Does this change your perspective of the importance of having a female perspective at THE table?
3. When you are looking to hire an employee, consultant, or speaker – do you make a conscious effort to interview both genders?
Do you (even for a split second) think – if we hire a woman, we could save some money?
If the issue is only men are applying – do you use social media platforms like LinkedIn or Facebook to put the word out?
If so, how?

BONUS QUESTIONS:

Does your organization thrive and grow with a strong, independent sales force?

What percentage is male?
What percentage is female?

Do your consultants, speakers or trainers who are teaching them represent these percentages?
4. When was the last time you engaged, enouraged, or empowered a woman in your world?
Can't remember?
Close your eyes and think of someone you KNOW you should reach out to.
Decide today to mentor, sponsor, or simply CALL her and let her know she is on your mind.
Set up time to meet for coffee or phone call.
Take a step.  It will feel amazing – to both of you!
5. What other questions could you be asking yourself to trigger the importance of gender parity in all of your business decisions?
Please share your thoughts in the comments below!
It is truly my heart's desire to inspire and ignite you into action!
Let's rally, choose one thing we can do today, and actually become part of the change we desire to see.
Cheers!