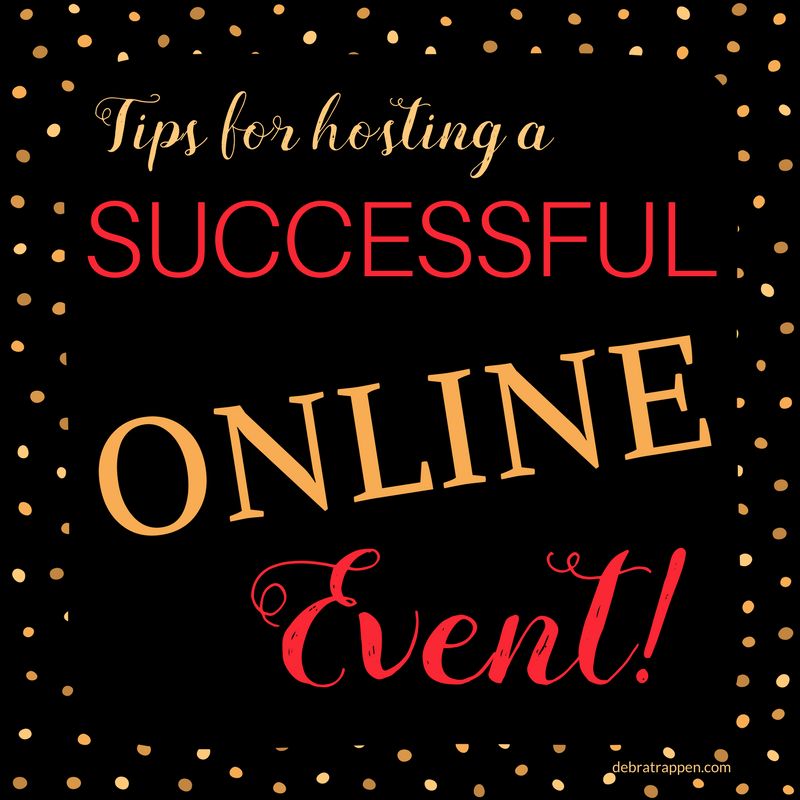 26 Jul

Fire Up Your Next Online Event

Sarah Schnell Jones and I met on Facebook LIVE to chat about our favorite "Tips for Hosting A Successful Online Event"!

Online events are becoming a bigger ingredient in the business scene.  Whether we are in the networking marketing, direct sales industry or the real estate industry – there is a way to utilize this new technology to connect with your current and future clients!
---
Here is a recap of our chat:
1: DEFINE A CLEAR GOAL FOR THE EVENT 
Do you want to sell products? Do you want to educate them?  Do you want to encourage them to network, refer, or connect to one another? Do you have an opportunity you want to share? Taking time to define YOUR GOAL and then articulate it very clearly is key to getting people to attend AND participate in your event.
2: BE CREATIVE WITH HOW YOU INVITE
Sarah shares her strategy…  In addition to the basic Facebook event invite, she also sends direct messages, texts, phone calls, emails, etc.  Don't depend on a ONE AND DONE invite strategy. Ask. Ask. Ask.
Oh, and don't forget to send reminders so people remember to attend!  The day before and 30-60 minutes before should be sufficient. ;)
3: SHARE THE FUN WHY ABOUT THE EVENT 
We all get so many events.  If you don't make your event stand out – it will get ignored or forgotten.  Add some sizzle to your invitation… Use video to share the WHY behind the event and see those YES RSVPs start rolling in!
4: OFFER SPECIAL PROMOTIONS 
We all love a good deal.  If you want to ensure people will attend AND purchase, you need to offer a discount or special promotion to get the YES. However, be sure not to overwhelm them. If you try to promote every single product or share every single detail – you will lose them. Key in on YOUR favorite products or those that you sell the most of to the target audience you are inviting.  Most of all – make it personal.
5: MAKE IT VISUAL 
People love seeing the products you are selling.  Using fun images and videos will entertain and engage your attendees. Don't wait until the last minute to pull them all together.  Write out a FLOW for the 30-60 minutes you plan to be online and plug in your images to the MINUTE that makes sense.  Super short videos are KEY!  Pick up the pace. Online, pace is everything. So be sure to keep things moving with new content and conversation pretty regularly during your event, so people remain engaged.
6: PROVIDE A CALL TO ACTION
You need to tell people what you want them to do.  BE CLEAR.  If you want them to purchase your products, then incentivize them.  Considering offering free shipping if they purchase in the next 11 minutes! Want them to sign up for something? Give them a goodie if they do it in ___ minutes and be sure to share the LINK multiple times.  Regardless of what you want,  be sure to clearly ask for it and give a time limit.
7: SPRINKLE IN SOCIAL
Please please please.  Start by introducing yourself.  You invited some of them to your party, but others are there because someone else invited them.  Share your story.  Also, share a selfie, short video, and/or a link to your About page on your website.  Create posts that inspire engagement.  Ask attendees to post a selfie and share their FB biz page, if they have one!  Finding funny videos to mix in gets people LAUGHING, too which turns into conversions! Oh, and sipping wine or mimosas is often a WINNER idea, as well. *wink*
8: FORTUNE IS IN THE FOLLOW UP
Don't let the connection end when the event does.  Consider sending a message to each attendee to thank them for attending.  Also, be sure to ask questions, offer advice, share links to special deals announced during the event, etc. When you invest your time in connecting with and serving them – success will follow.
9: DON'T STOP AND RUN
This isn't a wedding where the bride gets to drive off into the sunset while the gets mull around and sip their champagne dry.  Some of your attendees won't have the time or feel comfortable sharing their insights or questions during the event.  If you let them know you will be online for 15-30 minutes you will open the door for additional connection.
Last, but not least, HAVE FUN YOURSELF.  Laugh, engage, and educate!
xxoo
---
Join us for Sarah's FLASH SALE
on Saturday, July 29th!