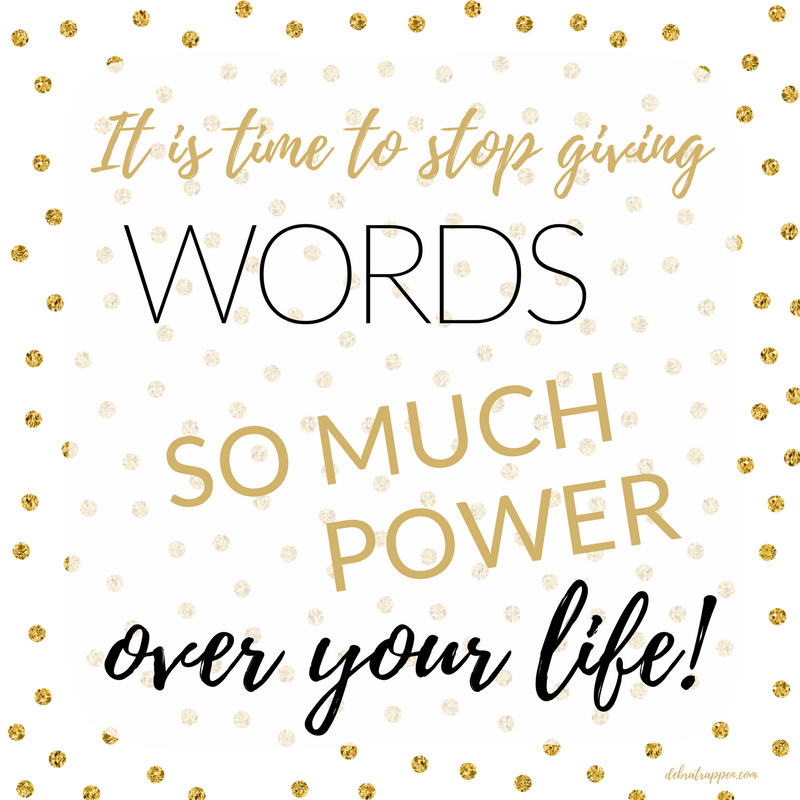 31 Jul

Are You Giving WORDS Too Much Power Over You?

Podcast: Play in new window | Download

Subscribe: Apple Podcasts | Google Podcasts | Spotify | Pandora | Stitcher | RSS
Not too long ago, I decided to stop giving words so much power over me…
I used to get FURIOUS when my brother called me a "chick". Seriously, I hated it. He could send me into a tailspin.  My reply would be: "I am NOT a baby chicken, I am a woman."  He loved how it would get under my skin.  I love him. ;)
I wasn't a fan of being called a "girl" either, but I realized I would call my besties my GIRLfriends while my hubby wasn't calling his pals "my GUYfriends". (Let that sink in, Ladies.)
The reality is–> No one really likes being "labeled", yet we all seek/want/use labels to describe and identify one another. Yep, Reality Bites.  (Oh, how I love a good GenX throwback!)
A few weeks ago, during a chat with a friend, this very topic came up. He is a bold, proud black man. Our conversation can be summed up in these words:
Statements like "I don't see color/gender." or "We are all one." are egotistical declarations implying we have to go blind in order to accept each other, our differences are not worthy of speaking to, or worse – they are a negative holding us back. To see and acknowledge an individual's color/gender doesn't make you prejudice, it makes you OBSERVANT.
I continue to translate the "labels" people give me as their way of observing how I may be different from those I am standing with in the moment. If I am the only woman on a speaker lineup, the only redhead, the only white woman, the only person in the band who doesn't play the guitar (darn it, I am working on that!)… well – that is a FACT.  If they are mistaken, then I help correct them and make them better. I definitely do my very best NOT to be offended. Being offended is a CHOICE.
For example, it used to really IRK me (honestly, it still does sometimes) when people refer to WOMEN as "GUYS"…  Hey, Guys – how's it going? Now, I work to gently remind others I am NOT a "guy" and (most of the time) they reply with a shocked "I never even thought about the fact that I was calling EVERYONE a "guy"… wow."
I still have a long way to go, but flipping my perspective on the labels has really helped me make a deeper, more positive impact on my world. I pray this helps you all, as well.
xxoo,