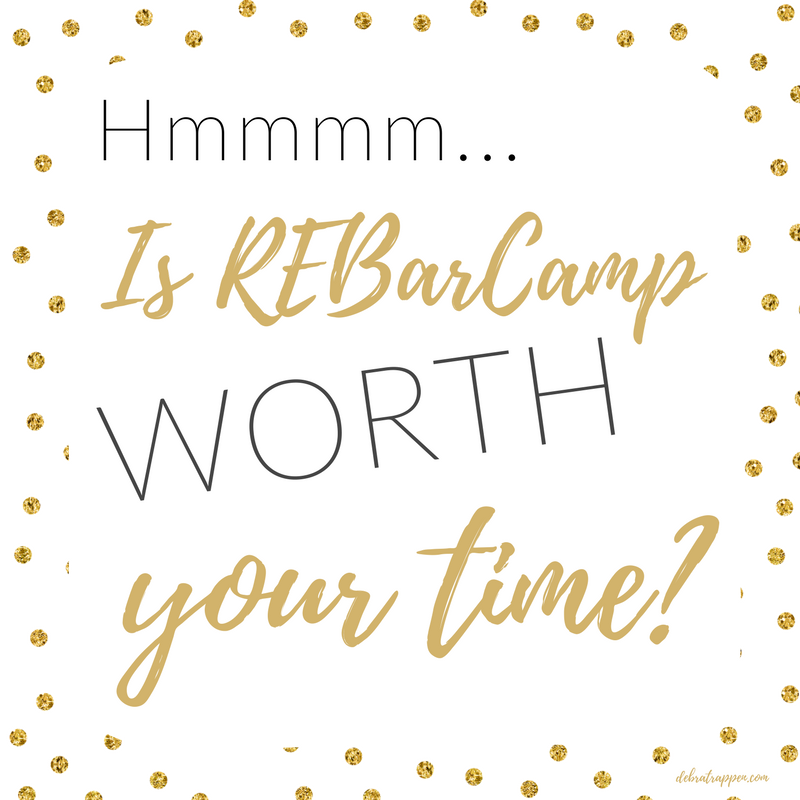 22 Sep

Attending #REBarCamp – is it for YOU?

Are you still trying to figure out if attending a "Real Estate BarCamp" is for you?

Not sure how this crazy "unconference" concept is worth you taking a day out of your "normal" schedule?

You are NOT alone.  I originally wrote this post for the REBarCamp in Seattle, WA… in 2010.  SEVEN YEARS LATER – people who have never attended one are still trying to figure out these wild and wacky events – and decide if they are worthy.

Over the years I have attended dozens of BarCamps in cities across North America like Seattle, San Francisco, New York, Vancouver, and Toronto… and every single one has been an experience to remember.  I have never heard anyone say "today was a waste of my time"… not once.

So, to help you, I put together my top 11 reasons to attend the next one in YOUR town:

1: You will expand your network with other smart, engaging, entrepreneur-minded professionals.

2: You can bring your biggest issues in running your business and get ideas on how to solve your problems or how to avoid them in the future!  Not only will there be colleagues in the room, but business consultants, industry influencers, and masterful minds to break it down and get your vision CLEAR.

3: The participants set the agenda. Yes, YOU DO. No stuffy, corporate conference planners deciding what you want to hear; you get to decide what is discussed in every single session!

4: The Rule of Two Feet:  Have you ever attended a conference presentation (seated in chairs that are ridiculously close to one another) and within 5 minutes you KNOW it is not for you? …You sit there – trying to figure out how to ESCAPE without "disturbing" everyone else… and eventually just decide to "stick it out".  UGH!  Here's the thing: #rebcsd is different! It's EXPECTED and ENCOURAGED that you move in and out of sessions while they are happening… and find the best room/topic for YOU.

5: It's LOCAL!  Local gatherings give you the opportunity to connect with other professionals who are dealing with the same local and regional challenges – chances are, they have local connections to help or ideas that work, and those could work for you, too!

6:REBarCamp's format is highly interactive: you can ask questions, contribute, and participate. Round the room discussions RULE over slide presentations. You are encouraged to participate however YOU are most comfortable. That's the beauty of the "un-conference".  You can share, listen, or both… as you wish.

7: Bringing online connections into "real life"!  Do you have lots of "social media" friends you have never met "in person"? RE BarCamp is a great place to meet IRL. The #rebcsd atmosphere is relaxed and conversational… and sharing your "online" handles is encouraged so you can find one another "in the halls"!

The next one I am attending is in San Diego.  Start following the hashtag NOW and find new peeps before you get there!

8: There are NO SALES PITCHES.  Period.  If someone tries to slip one in – see #4!

9: All topics are welcome: blogging, how to communicate to multiple generations, social media, knitting to meditate (yes, I HAVE seen that one!), online communities, work/life balance, "How do I use this iPad in my biz?", and much more. Get creative with your topics. Want more time on a topic or want to hold an adhoc discussion?  There is always flex space built into BarCamp, so grab a few others and dig deeper into your topic!

10: Lunch is usually included so you can enjoy more sessions and sharing.

11: It's is only $10 to attend!

Are you ready to reserve your spot now?
It is super simple to

register!
Don't forget to RSVP on the Facebook Event Page so you can invite your friends, uncover new connections you want to meet, and ultimately be FOUND by the people who have been dying to meet YOU!
I look forward to seeing you there, learning what you are passionate about in life, and helping you achieve CLARITY in the CHAOS of running your own business and building a life the fires you up…
Cheers!
Debra