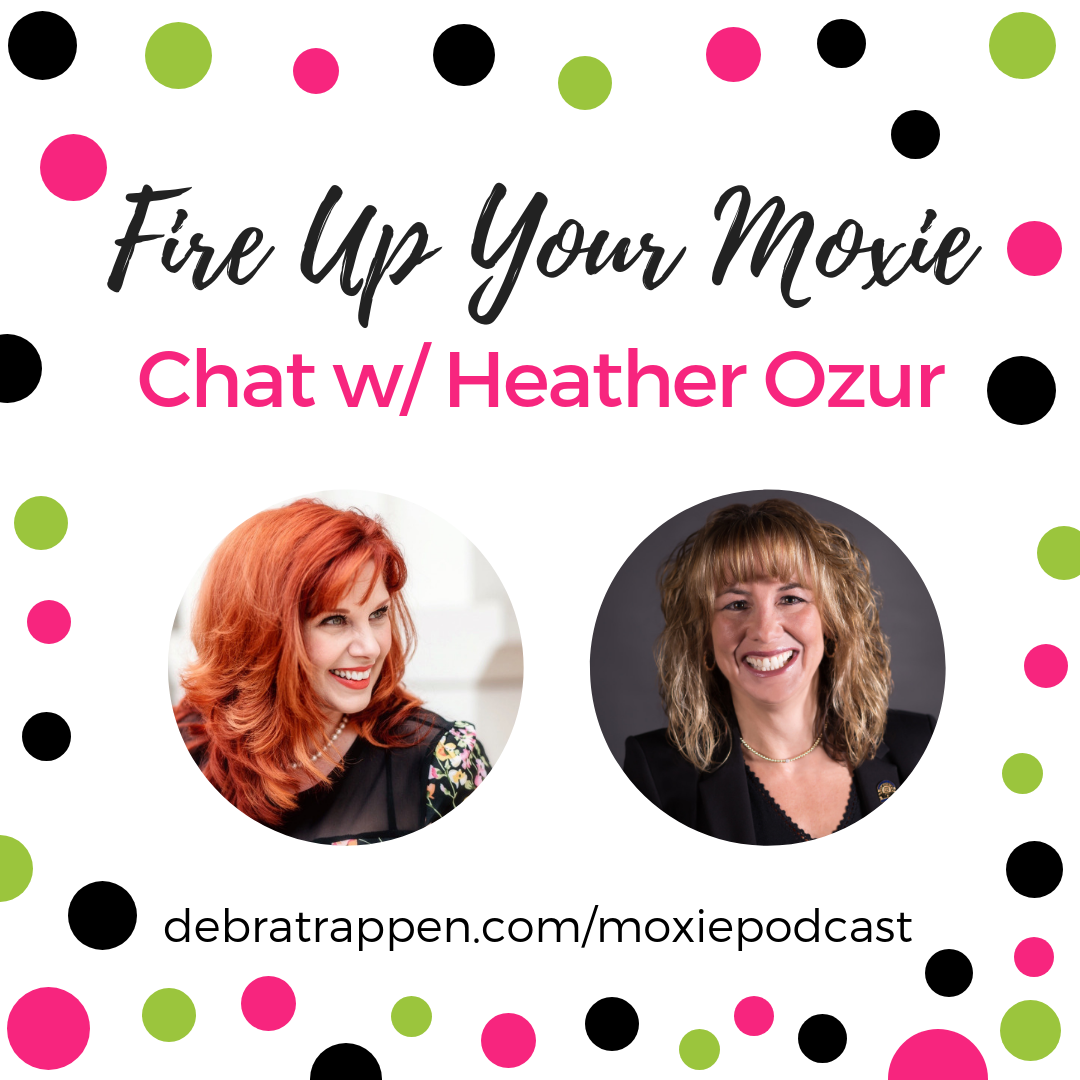 11 Sep

Meet Heather Ozur. * Passionate. Direct. Visionary.

Podcast: Play in new window | Download

Subscribe: Apple Podcasts | Google Podcasts | Spotify | Pandora | Stitcher | RSS
On today's episode, I'm fired up to share a chat I had with a fellow power woman and one of the most 
focused, fierce lionesses I know – Heather Ozur.
Heather is the 2019 National Women
'
s Council of REALTORS® President and has served on ooooooodles of committees and boards… We get REAL and raw and dig into (and expose) areas where most of us are too nervous to share.  Just wait.  The more you hear her talk about her and her journey – the more you will know her and I am betting you will learn something about yourself along the way. 
If you have questions for us, tweet me @debra11
 or shoot me an email at debra@debratrappen.com.
---
Here is a snapshot of the chat and questions…
1: Share the THREE WORDS that describe you BEST!
Visionary. Passionate. Direct.
Listen in to our chat and learn why she chose each of these words!
2: How do you live your purpose out loud?
By giving back to the real estate industry, volunteering time, and mentoring others to be the outstanding leader that they can be!
Listen in and hear her answers to these questions and more:
3: What do you do for FUN?
4: What is your 'superpower'?
5: What is your favorite topic to teach/talk about?
6: What is your vision for the National Women's Council of REALTORS®?
---
Heather's Bio:
Heather Ozur, is a practicing REALTOR® for 18 years with Keller Williams, specializing in residential property. Heather and her team focus on listing and selling properties in the Greater Palm Springs, CA area.

Heather has been an active voice in the REALTOR® community since 2003 serving on various committees. She has served in positions such as the 2010 & 2011 President of California Desert Association of REALTORS®, member of the 2011 – 2013 National Association of REALTORS® (N.A.R.) Strategic Planning Committee, 2012 N.A.R. Leadership Academy graduate, and served as the 2014 President of Women's Council of REALTORS® – California. In 2014 Heather was inducted into the RPAC Hall of Fame for her lifetime contributions to RPAC.
For 2017 Heather is serving as Secretary of Palm Springs Regional Association of REALTORS®, Vice Chair of Strategic Planning and Finance for the California Association of REALTORS®, Vice Chair – Strategic Thinking Advisory Committee for the National Association of REALTORS® and First Vice President for National Women's Council of REALTORS®.
Heather is passionate, a life learner and a social entrepreneur. In real life that means a mom, partner, volunteer, speaker and REALTOR®.
Want to connect with Heather?
Visit The Ozur Group:
PalmSpringsandBeyond.com