28 Mar

Release The Fear. A Special #SIP2020 Affirmation + Truths

Podcast: Play in new window | Download

Subscribe: Apple Podcasts | Google Podcasts | Spotify | Pandora | Stitcher | RSS

Today's episode contains a special #MoxieAffirmation for this time of sheltering in place with our beloveds during the Covid-19 pandemic.

Are you ready? Repeat after me:

I intentionally bring and breathe life into every room I enter.
I release the fear and embrace faith, gratitude, and hope.
Friends, I believe it is always the season to embrace faith, gratitude, and hope.
And right now, more than ever – we need to embrace all of it boldly and bravely.
There is a feeling of uncertainty in the air inspiring us to slip into fear, worry, and anxiety… let's feel those feeling and promise each other we won't stay in them.
Instead, let's encourage each other to slip into other things like into our cozy slippers, and comfy pj's. Let's hop on video chats to sip hot tea or divine wine together… snuggled on our couches or cuddled by our fires to reflect upon all we are grateful for in our lives – right now.
There is ALWAYS something to be grateful for – in every single season.
Today, I want to share some ways to take care of yourself and keep your soultank full while you do your best to remain calm in the chaos of uncertainty.
1. BE FIERCE about surrounding yourself with positive people and words. 
Who are you talking to or texting with every day? Are they focused on doom and gloom or sharing best practices for thriving in this uncertain season? Do they honor or share your values and support you in your values-aligned decisions?
What are you reading and listening to every day?  Are you focused on only reading the news or your manic, uncontrollable social media feed?
Your feelings are manifested and nurtured in your environment. If you want to feel more focused, more passionate, and more driven, or more grateful, more positive… surround yourself with conversations, quotes, podcasts, and books that inspire those feelings.
You're here with me, so we are connected – that means you're getting a weekly shot of positivity and moxie. Do some binging of the weekly affirmation podcasts… those are sure to shift your mindset! 
How about other podcasts you're listening to?
I started to corral some of my favorite podcasts by Lionesses in this community.
You can find them over on debratrappen.com/fave-lioness-podcasts.
A few not on that list yet:
Brene Brown's newest called Unlocking Us.
Her interview with Glennon Doyle about her new book Untamed was riveting. 
Super Soul Conversations w/ Oprah
Free Cookies w/ Kate Fagan and Kathryn Budig
(I always belly laugh when I listen to this show!)
If you have a fave, let me know in the comments below!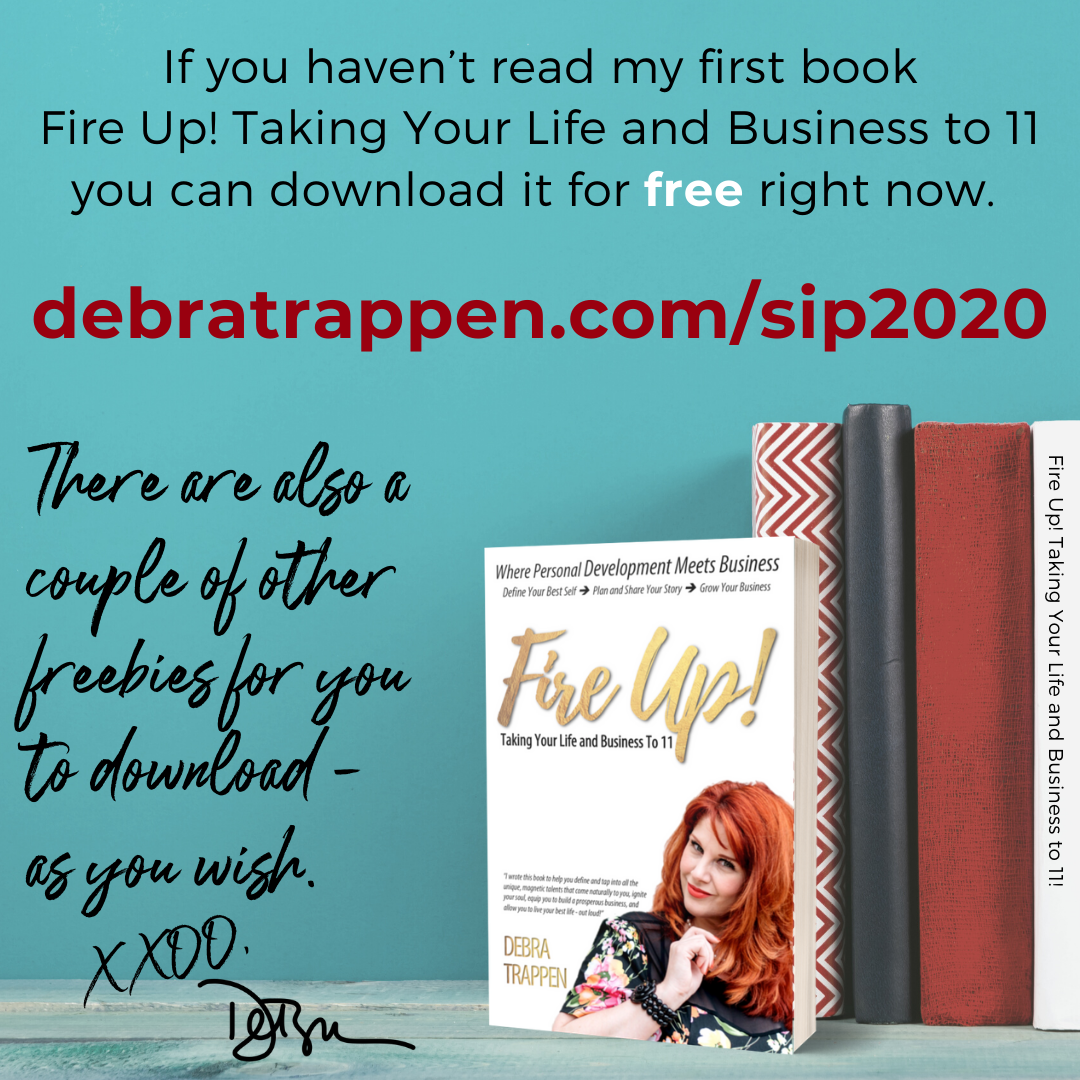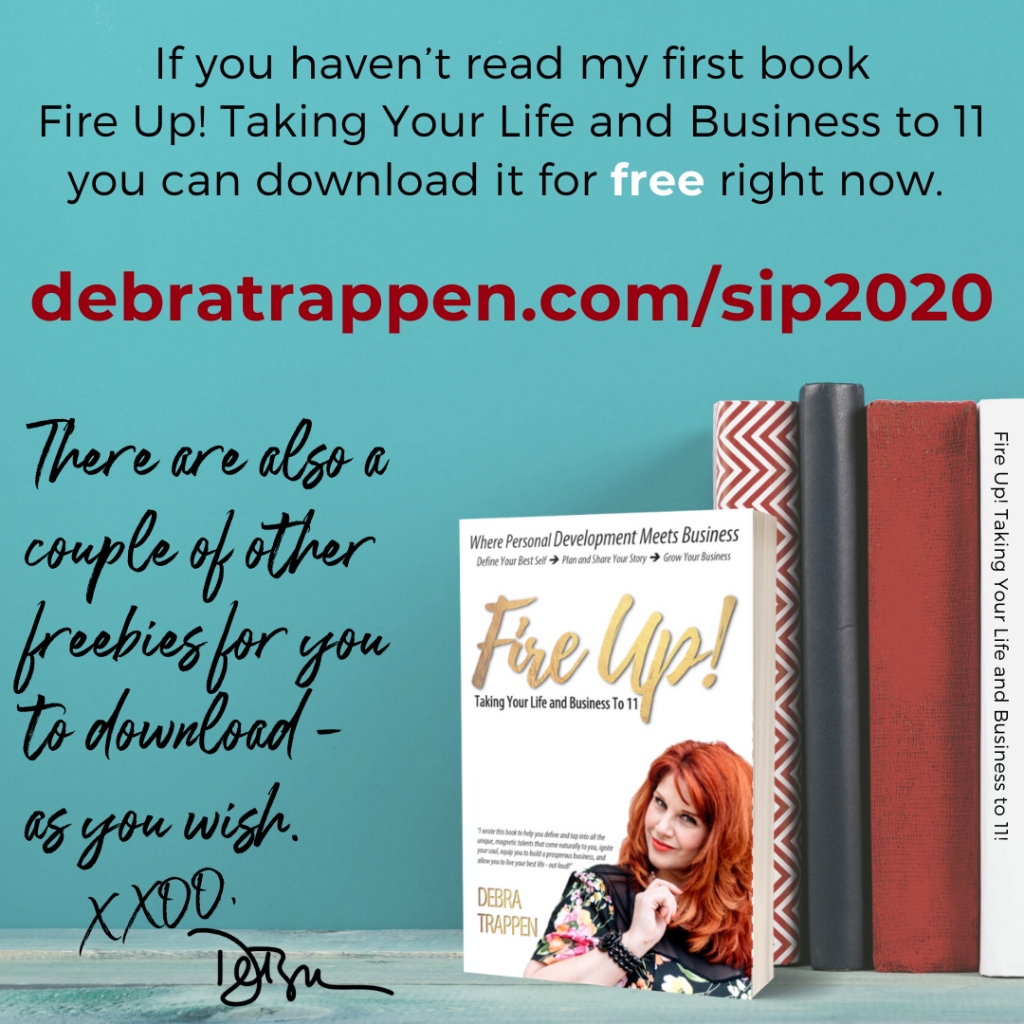 Books I am currently reading, listening to, or have recently finished:
Untamed by Glennon Doyle
Braiding Sweetgrass by Robin Wall Kimmerer
The Moment of Lift by Melinda Gates
Switch On Your Brain by Dr. Caroline Leaf
Throwing Rocks at the Google Bus by Douglas Rushkoff
Dare to Lead by Brene Brown
Inspired by Rachel Held Evans
The Woman's Hour by Elaine Weiss
Becoming by Michelle Obama
Radical Candor by Kim Scott
Women Who Run With The Wolves by Clarissa Pinkola Estes

2021 update:
Check out the top 20 books/podcasts/blogs from 2020: 
debratrappen.com/my-20-in-2020
2. Ditch the senseless hustle.
Slow down.
Enjoy each moment.
Take a DEEP BREATH.
Ditch the senseless hustle mantras and soak in life.
Right now, release the need to plan or control every minute.
Let the pillow and blanket forts stay up overnight…all week long.
Let the kiddos and dog toys stay scattered. 
Let it go. Let it go.
If YOU need an organized space for your sanity – rally your family and tell them what you need. Don't expect them to read your mind. Ask them to help you keep your shared living spaces tidy and give everyone (who can walk while carrying one) a box or laundry basket to collect their things before bed and then don't worry about their rooms being perfectly tidy – for now.

Also, put down your phone and experience life.  Not everything needs to be recorded – especially not all of the bed heads that haven't showered for a few days during the quarantine! Well, a few pics of those won't hurt anyone and they will make great shots for the wedding slideshows in the future. 
If you haven't taken the time – please take a moment to identify and manage YOUR stress points.
Is there constant news playing on your TV or Alexa? 
Consider implementing the NewsSquad idea I shared in the last podcast. 
Are you impacted by all of the NOISE in your home all day?
Create quiet time sessions and a reward system to say thank you when they keep it to a low roar. This Nurture and Thrive blog post shares great ideas on how and why to start quiet time in your home!
Are you exhausted by making ALL of the meals?
Again, ask for help. Tell people what you need. Set new standards.
Consider sitting down with your family and/or quarantine partners and discussing these questions:
Which meals are together? 

Which are fend for yourself? 

Who is in charge of which meals?




The morning person manages breakfast, the night out does dinner, and there is a new town favorite called PBJ's right now for lunch. Choosing a consistent lunch that you can make ahead of time will make it so much easier.
Also, think about having a place (a shelf, a basket, a drawer) where HEALTHY snacks are easily accessible and kids can grab and go without asking you! Also, make a rewards drawer, too. A place you can send them for a treat when they rocked an assignment or picked up their mess. It could be their favorite foods, coupons that allow them to choose the next movie, be the next leader of the family walk, extra screen time, stay up late, choose dinner, spend time alone with you, pick the next game for game night, and so on.
Give each other grace. Now is the time for rewarding the behavior you WANT TO SEE, not punishing the naughtiness.  You are stressed with the perspective that this too shall pass. Kiddos are stressed out AND they don't have the perspective you have on what is happening… keep this in mind when you get frustrated.
3. Breathe. Breathe. Breathe.
One of my favorite collaboration partners and Lioness sister, Molly McKinley, shared a couple of amazing breathing techniques in our FB Live "Spill the Tea" episode on March 25th.  Head to 29:00 in and breathe with us! If we aren't connected on FB yet – here is the link:
https://www.facebook.com/debra11/videos/10159299341793765/
Breathing helps you slow down your mind and calm your nerves.
If you have a hard time slowing down your mind, try this fun technique. 
Kick-off those cozy slippers and start wiggling your toes – really concentrating on scrunching them up, moving your big toe only, etc…  
When you do this – you don't think about anything else. 
Try it… it is an awesome way to slow your mind down and BE in the moment.
(Are you trying it right now, too?)
Do this with your kiddos… and get ready to hear the cutest giggles! :)
Oh… and now that those slippers are off – how about painting those cute piggies a fun new color?
4. Say thank you, smile, and wave more often.
Spreading joy is free. 
A few things to consider:
Write it in a thank you note to those who have lifted you up the last couple of weeks.

Pop on Facebook and post a gratitude note on a friend's wall. Share a favorite photo of the two of you and why that moment was the one you chose to remember today!
Since we aren't stopping to say hello to neighbors on our walks (to the joy of introverts everywhere!) so be sure to adopt the wave and smile! Smiling, waving, even a gentle nod when passing each other on the street helps others feel seen and cared for. Remember, there are people sheltered in place ALONE. They are in desperate need of human connection in this time of quarantine… and you may be the only face they see today!
I would love to hear how you are bringing and breathing life into your rooms and sprinkling gratitude and moxie-filled glitter wherever you "safely" go. 
xxoo,