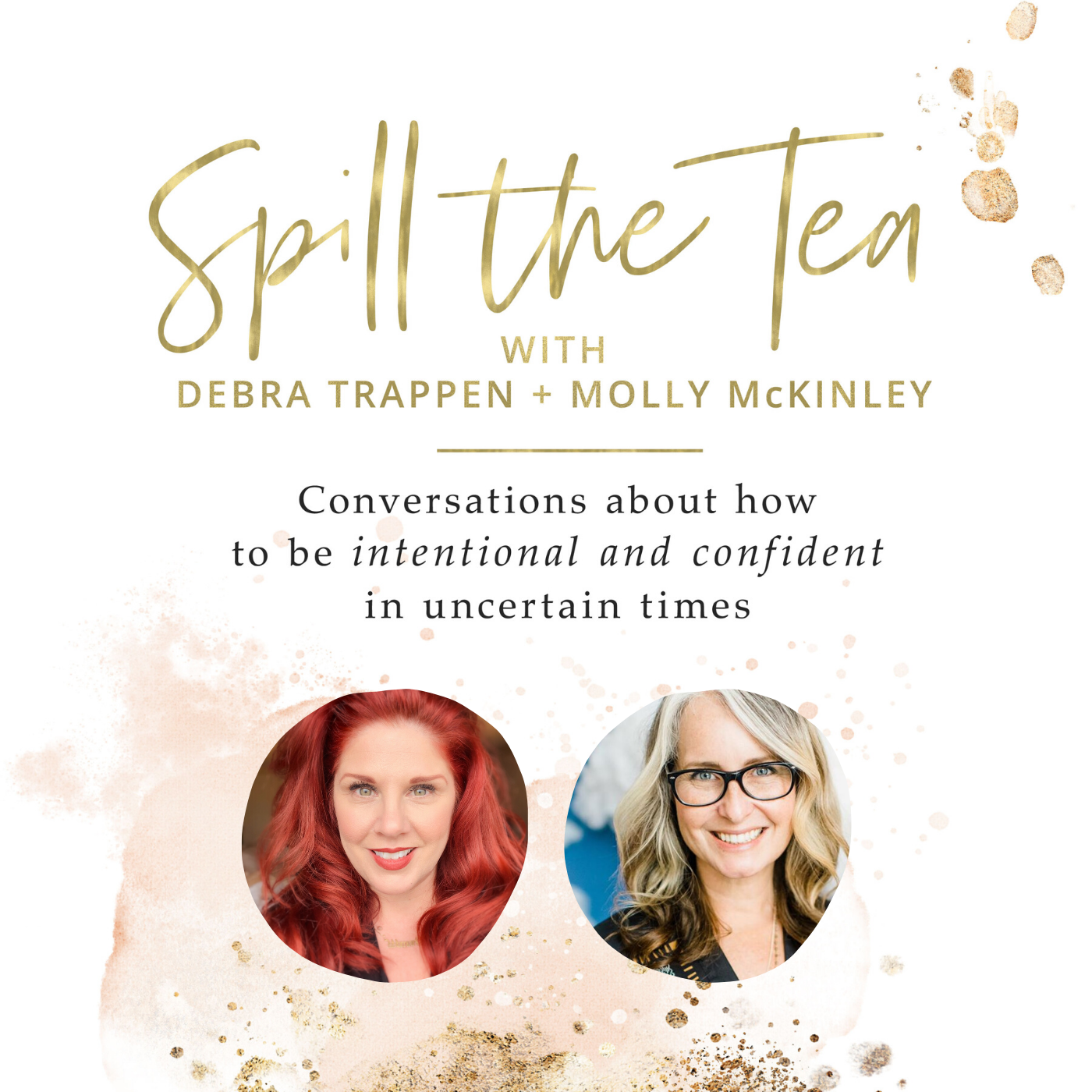 21 Apr

Spill the Tea: Intentionally Choosing What You Bring With You

Podcast: Play in new window | Download

Subscribe: Apple Podcasts | Google Podcasts | Spotify | Pandora | Stitcher | RSS

Pull out your sassiest teacup, brew your favorite tea blend, snuggle into your coziest spot, and listen in on this hour of togetherness… This week's topic is "Intentionally Choosing What You Bring With You"!

We talked about one of the first steps to take – reviewing your commitments. Here is the process we talked thru…

1: Do this when you are fresh and awake. Pour a cup of tea, your calendar, paper, and a pen.

2: Take a look at each area of your life and write down all of the commitments you have canceled in the last month.

These are the different buckets Debra shared: Work. Social. Self. Family.

Seeing it all written down can be quite an eye-opening experience and it may be overwhelming, so be mentally prepared.

3: Look at each one and decide whether it really brings you joy and adds value or it has become an energy/vision vampire in your life.  

Do I love this?

Is it worth the amount of time I invest in it?

If the answer is yes, let's add that to the "KEEP" list of commitments you will bring with you.

If the answer is no, let's add it to the "DITCH" list of commitments you want to leave behind.

If you want to do a Core Values Exercise, you can download one here:
debratrappen.com/valuesexercise

4: Review your list again.

Ask your spouse and older children do this for their commitments.

As a family, review those activities that require other member's time to decide collectively what works.

Put all of the KEEP activities on a blank month calendar and test how it feels.

Does this feel like the ultimate month for me? 

For the family?

Are we still over scheduled?

5: Revel in the freedom.

As you decide to eliminate the things that don't bring you joy or value, you will start to feel lighter. 

You don't have to do more than this right now. 

Next week we will share ideas on how to gently, yet firmly say NO and decline these events.  We will also discuss how to be prepared to graciously receive declines to the invitations we have given.

Before we said au revoir – Molly led us in this beautiful grounding exercise!
Want to watch the replay over on Facebook?
Join Debra + Molly for a conversation to help us design, embrace, and protect margin for what matters most!Molly will start us off with some intentional breathing… and we will end with a grounding exercise.Steep your favorite tea and cuddle into your coziest spot!

Posted by Debra Trappen on Tuesday, April 21, 2020
•  •  •  •  •  •  •  •  •  •  •
What is Spill the Tea?
One of the many fun collaborations between Molly McKinley and Debra Trappen!
Molly is the CEO of Intentionaliteas and host of the Afternoon Tea podcast, so in honor of our shared love of tea – pull out your sassiest teacup, brew your favorite tea blend, snuggle into your coziest spot and listen in on this hour of togetherness.
Get ready to hear us sharing ideas to, best practices around, and (of course) highlighting our favorite people, brands, and initiatives positively serving humanity and sprinkling JOY over their slice of the galaxy!
It is our heart's desire to provide a lens for focus, a place to uncover the opportunities that abound. and create a moment to embrace grace and gratitude as we celebrate the beauty that is swirling around us. 
Let's all go forth and lead with love, trust, and faith.  
Learn more about MoxieOnFire.com – one of our other exciting collaborations!
---