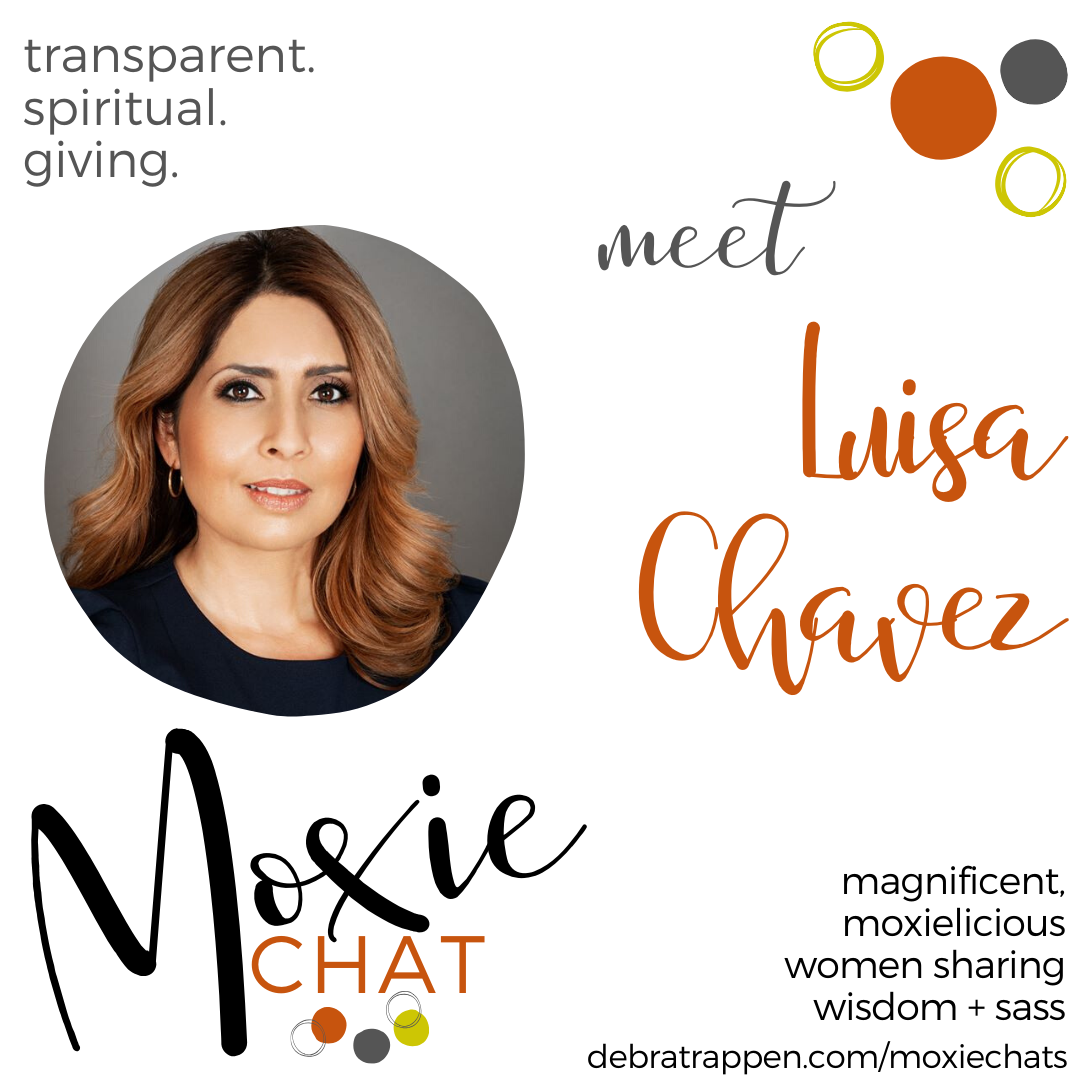 17 Apr

Moxie Chat: Luisa Chávez * Driven. Determined. Loyal. 

Podcast: Play in new window | Download

Subscribe: Apple Podcasts | Google Podcasts | Spotify | Pandora | Stitcher | RSS
---
Today's Moxie Chat guest is Luisa Chávez.
With over 17 years of experience, a deep love for the industry, and extensive sales & negotiation expertise, Luisa is a California Real Estate professional/REALTOR® dedicated to helping her clients achieve their Real Estate goals and needs so they too can leave a Legacy.
After attending the first-ever WomanUP® Conference she was inspired to take a giant leap of faith and leave her comfortable salaried position to venture into entrepreneurship. She now has embraced the liberty of being her own boss and is spreading innovation and creativity in her leadership roles. As a soul-centered entrepreneur, she is immersed in philanthropic efforts to end homelessness, uplift humanity and empower individuals to become the best version of themselves.
Luisa is a mother to two sweet, big-hearted boys. She has been with her current husband for over 13 years and they were married in August 2017. 
Besides spreading healing & positivity, some of her hobbies include photography, gemstone jewelry making, and all things mindfulness.
During our chat, we talk about feeling stuck in jobs that aren't a fit, her passion for inspiring our mothers and grandmothers to fully live THEIR lives, and how her newest project, Meraki By Luisa is filling her soultank!
Without further ado, here's Luisa.
---


1. How do you define SUCCESS?
I am successful when I am putting the needs of others as a priority whether it be my kids, husband or parents. I feel successful when I know I am helping others with their goals and dreams. 
2. Share the THREE WORDS that describe you BEST and why!
Transparent, spiritual and giving.
I have had friends & colleagues use the word 'transparent' to describe me and it resonates. You get what you see, I am 'me' all the time. I feel divinely guided and connected most of the time; being open and positive gives me strength. I was raised in poverty and when times are good monetarily, I like to help give back whenever I can. If times are tough, I put my heart and soul into my interactions with others and offer them love and light. 
3. What is the best advice you have ever received?
Don't let people or situations take away your peace. Only you have control over what affects you and for how long. The sooner you move on from the toxic & negative situations, the better! My mom always tells me to just 'let it slide'.
4. What is one thing people would be surprised to know about you?
I lived in Japan for a little over 2 years and my oldest son was born there. Also, he/my oldest son, is blonde/albino. His dad and I are both Mexican.
5. If you could go back 11 years – what would you tell yourself?
Take the time to care for yourself. Exercise and meditate on a regular basis.
6. What is one habit you are trying to build?
Getting up early and sticking to a morning routine. I love how I feel when I conquer my mornings but I have too much going on sometimes. I need to BECOME a morning person and get up before 5am! Lol.
7. If you could share a meal with ANY 3 people, who would they be and why?
I would ask Oprah if I could show her how to make tamales or something very Mexican in her kitchen so we can have fun, get to know each other better and have a hearty meal! I love her soulful conversations and admire her for her humbleness yet giving spirit. I would also want to share a meal and meditate with the Dalai Lama. The most significant and rewarding would be to help Mother Teresa feed the poor. I can only imagine the huge heart and empathy she had.
8. What does MOXIE mean to you?
To me, Moxie is whatever puts spark, spunk or color into something.
9. What does a "perfect day" in your life look/feel like?
I would be sitting on the deck of a bungalow in Bora Bora looking out to the blue tropical waters accompanied by both my parents and my boys would be swimming nearby. It's going on my Vision Board this year!
10. What is your ONE WORD for the next 12 months? Why?
Prosperity. My goal is to help as many families as possible create generational wealth through real estate or other financial venues. By helping out families with their prosperity, I will also be able to give back in big ways to charity and philanthropic causes such as Prosperity Homes. Prosperity Homes is a unique nonprofit model that connects the real estate and mortgage industry to building and transforming communities all around the world. It is membership and volunteer based, and it's mission is to uplift women and children while serving with hearts wide open.
11. Do you have something launching soon? Anything special you want to talk about on the show?
I moved Brokerages this week and am extremely excited to be a part of a family of soul-centered entrepreneurs. I am joining forces to support The Mortgage Phoenix Group & Legacy Real Estate with their 2020 vision for Prosperity Homes. We are launching three Chapters in Los Angeles, Orange County & the Inland Empire. I will be serving on the Board of Directors for the Inland Empire group and this 100% Philanthropic community will be spearheading humanitarian projects in Baja California, Mexico. Our goal is to raise funds to build more homes for indigenous families in Ensenada. We will also be collaborating to discover, create and provide solutions that can change the trajectory of the lives of many young kids that are being robbed of their childhood. The kids as young as 13 years old are foregoing education to pick the crops/food that arrives at our grocery stores. The Prosperity Homes community is looking for ways to build more sustainable homes and create systems that will enrich the lives of these families. 
Our next build is scheduled for January 11th and fundraising efforts are year-round. For more information visit 
https://www.prosperityhomes.org and be sure to follow Jorge's Story here.